A new permanent exhibition has opened at the Worker and Collective Farm Girl Center dedicated to the construction and history of the monument towering above it.
The sculptural group "Worker and Collective Farm Girl" is one of the most iconic examples of Soviet architecture. Created by Vera Mukhina for the 1937 International Exposition in Paris, the 70-foot structure was later moved to Moscow and now stands at the northern entrance of VDNKh. Mukhina won a Stalin prize for her work, which depicts two figures triumphantly holding a hammer and sickle over their heads as they stride forward together.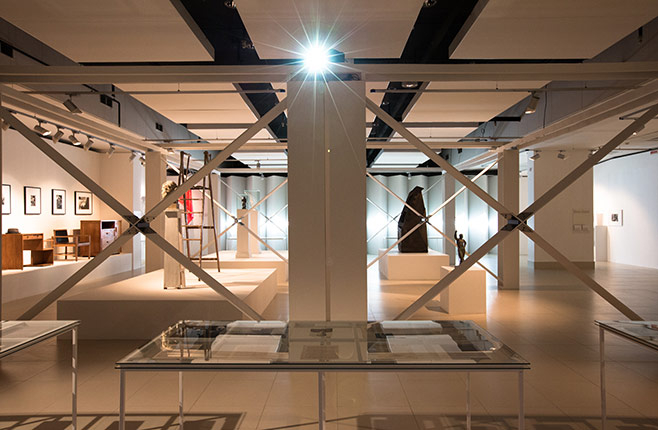 Manezh Press Service
The new exhibition is also an architectural triumph. Occupying the first floor of the Center, its modern design draws inspiration from the theme of construction with repeated patterns of beams stretching across white-washed walls. The exhibition presents an in-depth, chronological history of the famous landmark. The minimalist design of the gallery's interior facilitates this detailed focus, drawing attention to tiny objects, such as a commemorative medal of the Paris International Exposition. This is just one of numerous artifacts dating back to the time of the monument's construction, from Mukhina's favorite mug and saucer set to footage from 1930s documentaries.
Whether familiar or not with this impressive monument, a visit to the new exhibition at the Worker and Collective Farm Girl Center is sure to leave an impression.
The Worker and Collective Farm Girl. 123B Prospekt Mira. Metro VDNKh. moscowmanege.ru.Tues.-Sun. noon to 9 p.m.
Contact the author at artsreporter@imedia.ru