The big draw of "31 Days Fotofest" is an exhibit devoted to the winners of the World Press Photo awards, now on show at Artplay, which includes work by two Russian photographers.
The show, which is traveling the world, has 200 photographs divided into numerous categories including daily life, portraits, nature and sports, which reflect the breadth of modern photojournalism. The World Press Photo awards prizes to the best work in photojournalism each year. The photos have been on show annually in Moscow since 2007.
"2014 was an unrelenting news year," wrote contest jury chair Michele McNally in her foreword to the World Press Photo 15 yearbook.
Immediately visible as you enter the exhibit is the overall winner, "Jon and Alex," a powerfully intimate photograph of a Russian gay couple in their St. Petersburg apartment, taken by Danish photojournalist Mads Nissen.
The photo is part of a series depicting Russia's LGBT community, and the effect of homophobic harassment and hate crimes, that Nissen took in St. Petersburg in 2013-14. The idea was "to describe what it's like to live with forbidden love in Russia," wrote Nissen on his website.
"This is what this exhibition is about: a visually uncensored summary that shows us what happened in 2014," said curator Laurens Korteweg at the festival opening earlier this month. "An opportunity to look, to think and to reflect. But the mere fact that we are here looking at these visuals also makes this a celebration of press freedom, the free flow of information and freedom of speech."
Two Russian photographers, Sergei Ilnitsky and Sergei Ponomarev are also shown in the exhibit. Sergei Ilnitskiy won two prizes this year in World Press Photo for his work in the conflict in Ukraine and his sports photography. Ilnitsky won in the General News category for an image of a kitchen table covered in blood and shards of glass after artillery fire from Ukrainian government troops fighting pro-Russian separatists in Donetsk. Ilnitsky also won second place in the Sports Stories category for his dynamic series of pictures of professional skiers in midair.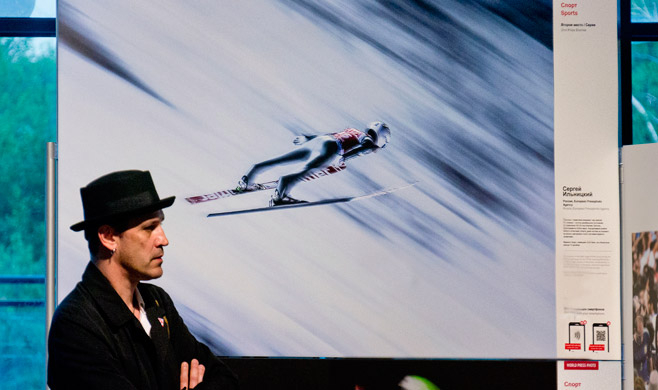 Vladimir Filonov / MT

Photographer Sergei Ilnitsky won two 2015 World Press Photo prizes.

Ponomarev's series of pictures of Palestinians in war-struck Gaza, during the Israeli offensive against Hamas last summer, won third prize in the General News category.
The World Press Photo awards exhibit has taken place in Moscow annually since 2007, but this year organizer Fotodoc found it difficult to cover costs and was forced to rely partially on crowd funding to support the exhibition. "We are faced with the fact that our partners and sponsors cannot or are not prepared to support us," Fotodoc said on website planeta.ru. The goal is to raise 300,000 rubles to cover the costs of the exhibition. So far they have raised almost 160,000 rubles.
Also on show at Artplay is an exhibit devoted to one of Russia's best-known photographers Sergei Maximishin. He has chosen 100 of his favourite shots for the show and the photos, many of them stunning, atmospheric shots of Russia, will be released in book form in August.
In addition, Artplay is also showing the winners of a competition dedicated to the natural world, organized by GEO magazine and FotoEvidence 2014, which recognizes the best and most courageous photography documenting violations of human rights. Two exhibitions also display photos by students of the Moscow-located British Higher School of Art and Design: "Behind Closed Doors" shows photos of places normally inaccessible to the public, while daily life is recorded in "Moscow Diary."
As part of the festival, which has photo events all over town, Artplay will also play host to a number of talks. Ponomarev spoke on Friday about working in conflict zones in the Middle East and the British Higher School will have talks on the pros and cons of multimedia and new media formats.
"31 Days Fotofest" runs until June 13. Artplay. 10 Nizhnyaya Syromyatnicheskaya Ulitsa. Metro Kurskaya, Chkalovskaya. Tel. 495-620-0882, artplay.ru. Talks at the British Higher School of Design will take place May 30 at 4 p.m. and 6 p.m.