Victory Day is a time of brass bands, heavy artillery and a whole load of flag waving. Given that the government spends a lot of money chasing away the clouds and ensuring blue skies and sunshine on May 9, there's no better way to celebrate than by relaxing in one of Moscow's parks.
"Victory Day events will be taking place in 21 parks," said Marina Lyulchuk, Director of Moscow Parks, in a written statement to The Moscow Times. "The holiday program begins at 1 p.m. and at 10 p.m. there will be firework displays in 20 parks. In 14 parks veterans will meet with members of the public."
The day celebrates the anniversary of the Allied defeat over Nazi Germany and with a packed program featuring live bands, craft workshops and theater performances, there's something for everyone to enjoy. In Gorky park and Muzeon Arts park events will have a musical sway. On the terrace of Krymskaya Naberezhnaya an orchestra will perform songs from traditional war films while musician, singer and guitarist Philip Dares will take pride of place on the main stage. Theater enthusiasts can enjoy live skits from the "Eskizy v prostrantve" dramatic group.
As for children, you'll find them pulling you towards Pushkinskaya Naberezhnaya, which will host an exhibition of military equipment. For youngsters of a pacifist persuasion, the "Pioner" pavilion is running creative workshops where creative types can learn to make paper flowers.The impressive Park Pobedy on Poklonnaya Gora, which houses many exhibits from the first Patriotic War and the Great Patriotic War, is running a family-orientated sports day on May 8. Play tennis, darts, or — if you're feeling lazy — chess and checkers.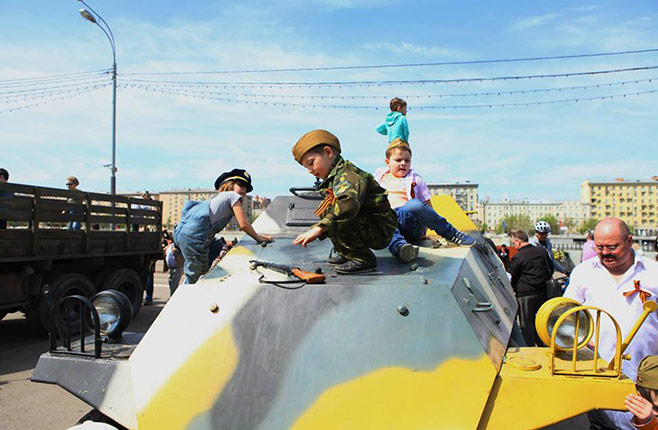 mosgor-park.ru
Children clamber on the military equipment on display for Victory Day.
A highlight on May 9 will be a performance by the Mariinsky Theater Symphony Orchestra directed by Valery Gergiev. In the evening a 10-meter high sculpture of a torch entitled "The light of memory" will be emblazoned, accompanied by an artillery and firework display.
Sokolniki park will host a performance by the State Academic Russian Folk Ensemble, while the park's main avenue will display military equipment and vintage cars. Meanwhile Hermitage garden will be taking the traditionalist route, with a brass band, chamber choir, retro dance classes and a vintage car showcase.
Bauman Garden will host its fourth annual marching band festival. Visitors can expect performances from the new generation of horn players and a mix of musical genres from jazz to house. Singer Peter Nalich will perform at Tagansky park while Krasnaya Presnya Park has a concert from the band "Underwood." Perovsky park will boast performances from a military orchestra and soloists from the show "Golos.Deti."
Other events will take place in parks across the city including Izmailovsky park, Vorontsov park, Kuzminki park Goncharovsky park.
For more information in English about the parks, see moscow.info/parks. For more information in Russian about the parks and spring cleaning days, see mosgor-park.ru.
Contact the author at artsreporter@imedia.ru