It's a little like Pink Floyd's song in reverse — not so much "another brick in the wall," as another brick falls from the wall.
The Polish government last week canceled its 2015 "Year of Poland in Russia" in protest against Russian actions in the Ukraine crisis. Ever since the hostilities began in earnest, cultural and people-to-people exchanges have suffered. Numerous European performers have refused to perform in Russia; significant numbers of Russian performers have had to abandon plans for foreign tours.
If this continues, will anyone be left to talk?
I emailed questions to several expats who have long worked in Moscow's cultural community to find out how recent events have affected them. Not surprisingly, their answers were full of contradictions.
"When I arrived in Moscow in 2005 it felt like Russia was still opening up," wrote Odin Biron, an American actor who has studied and performed in Moscow for nearly a decade and who is presently home in Minneapolis. "Though I am sure Russia will continue to grow and change in very good ways, I sense a definite temporary constriction."
Helen Womack, a British freelance journalist and an accomplished painter who has lived in Moscow for 30 years, noted that she was saddened to see Russian friends falling out over the war. "I had a long exchange with an artist friend on Facebook who wanted us to post pictures of ourselves with the St. George ribbon to show who is one of us and who is an outsider. I think I persuaded her that this was not a healthy way to think, and we did not 'unfriend' each other."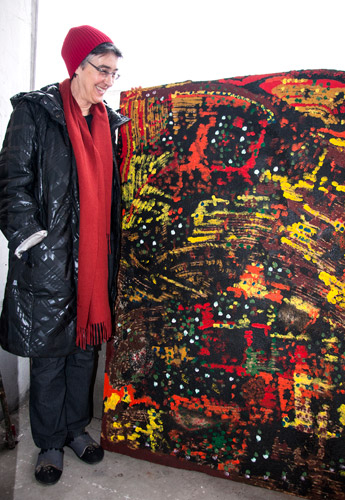 Courtesy of Helen Womack
Womack, journalist and artist, with one of her works.
Events have definitely had an impact on her work, she says. "I am getting more work as a journalist but have less time for my painting. I am writing more about politics than culture and social affairs, which are my usual areas of interest. My naive style of painting requires me to love my subjects, and I am not much in the mood for art at the moment."
Something everyone noted was the importance of Russia and Moscow in their professional growth and personal lives. Adam Muskin, a U.S. citizen, studied and worked for several years at the Moscow Art Theater. Presently he is a DJ for Moscow FM, a city-supported English-language radio station.
"I invested a great deal of my life into this country, and it has given me much in return," Muskin noted. "I owe both of my diplomas, my ability to speak a foreign language, my adult world view and the adventure of a lifetime to Russia. I have worked hard to build a life I can be proud of here. To see those efforts threatened by the politics of the moment is very difficult to deal with, to put it lightly."
On that topic Biron declared, "It is a personal conundrum for me how much I should continue to invest my time and energies in Russia, but I already have a very deeply rooted story there, and I can't yet picture moving away permanently."
Everyone was skeptical of cultural boycotts.
"There may come a time when we have to boycott," Womack wrote, "but I am trying to resist this slide back to the Cold War."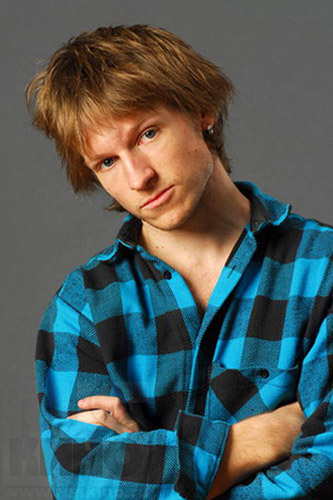 Seven Sense Talent Agency
U.S. actor Liske studied at MKhAT.
Muskin said he respected the right of people to "take a stand for something they believe in," but added that "ambassadors of goodwill are also important."
Biron was adamantly against the notion of boycotts, calling them "the simplest and most misguided ways of dealing with this complex situation."
"Now more than ever," Biron opined, "I feel like Russia needs an influx of new ideas that can support the already very present voices in Russian society that are saying, 'Wait a minute, this is not the Russia we love.'"
Increasingly we hear stories of Russians and foreigners bailing out of Moscow or at least thinking seriously about doing so.
Womack admitted that any illusions she may ever have had about "becoming part of Russian society are gone now," adding, "I will stay here as long as I feel I am professionally useful and have the strength to work. But I certainly do not plan to retire in Russia."
Cazimir Liske, another U.S. actor who trained at the Moscow Art Theater (MKhAT) and has collaborated with Ivan Vyrypayev's Praktika Theater in recent years, declared that increased censorship, government-sanctioned homophobia and the Malaysia Airlines tragedy do not make life in Moscow easy.
"However," he adds in reference to his homeland, "I came here from a country that spends an inconceivable amount of money on war-making, that conducts secret surveillance on people around the world, that still officially embraces the death penalty and is in the news daily for unthinkable acts of violence, from drone attacks to school attacks. When you put it that way, it becomes harder to justify going home in search of better politics."