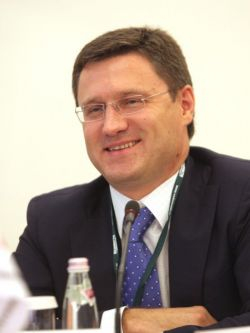 Vedomosti
Novak
In a new Cabinet whose composition was widely leaked in advance, Alexander Novak's elevation to the crucial energy portfolio Monday came as one of the biggest surprises of the day.
Less than four years ago the man now in control of the industry providing about 40 percent of federal revenue was a deputy governor of the Krasnoyarsk region.
In 2008, Novak, who was born in Ukraine, transferred to the Finance Ministry in Moscow to become a deputy finance minister under Alexei Kudrin.
Sources at oil and gas companies confirmed that the appointment was unexpected and one former executive from a top company, who requested anonymity to speak freely, said he had never even heard of Novak.
Prior to his stint in regional government in Russia, the Moscow State University graduate was based above the Arctic Circle in the city of Norilsk, where he worked in both business and politics for 14 years.
The new energy minister visited his department Monday directly after the announcement of his promotion, RIA-Novosti reported. Newly appointed Deputy Prime Minister Arkady Dvorkovich will oversee the sector.
But the attention of experts was drawn immediately to Novak's background in the Finance Ministry, which has long battled to squeeze as much revenue as possible from mineral extraction and oil and gas exports for the state's coffers.
"The key issue for the energy industry right now is tax reform and tariff regulation, and if [Novak] can improve the relationship with the Finance Ministry, that can only be helpful," the former energy executive said.