VIENNA — Eurovision song contest organizers say that they will take extraordinary measures to mask any booing from the audience that may be directed at Russian entry Polina Gagarina.
"It was very embarrassing for us last year when this happened, as it is not in the spirit of the contest," Jarmo Siim, Communications Coordinator for Eurovision told The Moscow Times on Monday. "We are here to build bridges, as the motto [of the contest] says."
The Tolmachevy Twins, who represented Russia in Copenhagen in 2014, were repeatedly booed during their performance in the final. The response was seen as an attack on Russia's involvement in the crisis in Ukraine and the country's controversial anti-gay policies, rather than a response to their inoffensive song "Shine," which eventually came seventh in the contest.
Gagarina performed in the Eurovision semifinal Tuesday, qualifying for the final without any boos from the crowd.
Siim said that "sound reducers" had been installed in case of any booing but "Plan A is to use regular audience sound." He said that they had several options to reduce any unfriendly sounds from the crowd but refused to go into detail.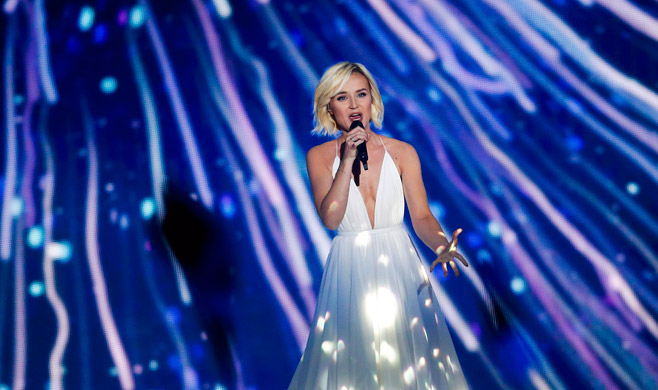 Leonhard Foeger / Reuters
Gagarina performing in a rehearsal for the Eurovision semifinal in Vienna.
"It is the first time we have prepared in this way, we want to be ready in all scenarios [but] we have high expectations that nothing like this will happen," said Siim confidently.
He is hopeful, having seen Gagarina in Vienna, that the measures will not be needed.
"After her reception at rehearsals and on the red carpet, we have no reason to be worried." he said.
Nevertheless, there are signs that the audience of the kitschy contest, which has a huge gay component, isn't quite ready to accept Russian contestants.
A year after the Tolmachevy Twins were booed, Russia is arguably even more unpopular on the international arena. European countries have introduced sanctions against Russia over Ukraine and gay rights activists continue to criticize Russia for the 2013 law, which made it illegal to promote "non-traditional sexual relations to minors," that they say has encouraged intolerance and homophobia.
Heinz-Peter Bader / Reuters
Host city Vienna has introduced gay-themed traffic lights for Eurovision.

When 2008 Eurovision winner Dima Bilan performed at a concert in March that brought together former winners in London to mark the 60th anniversary of the contest, he was booed by the audience in protest against Russia's anti-gay laws, British newspapers reported, even though Bilan himself has spoken out against the legislation and signed an open letter in opposition to the government's action.
That show's host Graham Norton told the audience at the Hammersmith Apollo to "be nice" and "support all the acts" on the night, although he did add that "You can boo in Vienna, you can boo at home, but not here."
Gagarina is hopeful that the Eurovision audience will be appreciative. But even if they boo, she won't hear them, as she will have two earphones in.
"Normally I just have one earphone in when I perform so that I can hear the audience and feel the energy of the arena," said Gagarina in an interview with Russkaya Sluzhba Novostei, saying that Eurovision makes artists use two earphones.
Gagarina was, however, already being booed back home this week rather than in Vienna after she put a short video of her meeting with Conchita Wurst, the bearded Austrian drag queen who won the contest last year, on Instagram.
In the video, Wurst tells Gagarina she is amazing and the two hug and exchange air kisses. The post got more than 37,000 likes but some homophobic responses, including one which called Wurst a sodomite and said that the singer should be dealt with as in medieval times and burnt alive.
And Vitaly Milonov, the St. Petersburg lawmaker who was a pioneer of the anti-gay law, furiously responded to Gagarina being polite to Wurst by saying "Don't you dare soil Russia by hugging the europervert," Russia's NTV television channel reported.
Gagarina didn't respond directly to Milonov but her response to the comments on her Instagram posts could also be directed at him: "Why so angry? It is only a stage persona and it works. She performs excellently and is very cultured. Мind what you write!!!"
Gagarina surely won't be booed for that response.