Ukrainian lawmaker and leader of the ultranationalist Right Sector group Dmytro Yarosh has been injured by shrapnel near ruined Donetsk airport, his spokesman said.
The injury was not life-threatening, Right Sector spokesman Artyom Skoropadskiy was quoted as saying Wednesday by Ukraine's Hromadske TV. He did not provide details.
Olena Bilozirska, a blogger sympathetic to Right Sector's cause, wrote on Facebook that Yarosh had sustained an injury to his arm and to his eye.
She added that he had undergone surgery on Wednesday for his wound, which was sustained in the village of Peski — a strategic point on the approaches to Donetsk airport.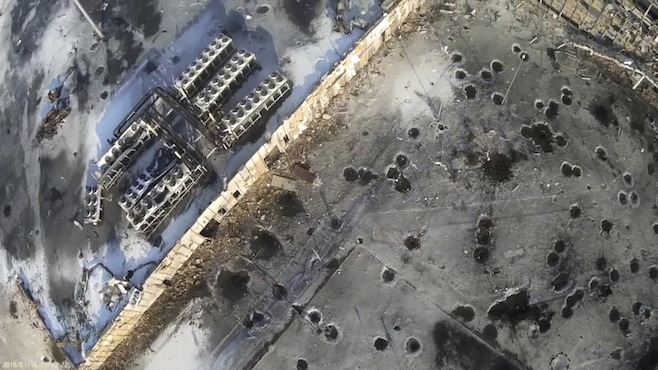 Reuters / Army.SOS

An aerial footage shot by a drone shows the shell craters at the Sergey Prokofiev International Airport damaged by shelling during fighting between separatists and Ukrainian government forces, in Donetsk, eastern Ukraine.
Ukrainian volunteer Roman Donik wrote on his Facebook page that the shelling had came from a Grad missile system.
Yarosh was in Peski as a member of the Ukrainian Volunteer Corpus, which is Right Sector's volunteer batallion, The Kiev Post reported Wednesday.
Right Sector played a major role in the street demonstrations that ousted Ukraine's pro-Moscow president, Viktor Yanukovych, from power last February.
Yarosh is Right Sector's only representative in Ukraine's parliament. At Russia's request, he has been placed on Interpol's international wanted list for inciting terrorism and extremism through mass media.