A new exhibit dedicated to avant-garde artist Kazimir Malevich at the Tate Modern in London has earned rave reviews from British press, with The Sunday Times calling it the exhibit of the year.
"Malevich: Revolutionary of Russian Art" is the first retrospective of the artist for 30 years. It starts with his more traditional paintings in his youth, through his experiments with abstractionism and the suprematism that changed the art world and his later work under the shadow or state repression.
His most famous work, "Black Square," is at the heart of the exhibit. The painting shocked the world when it was first revealed after months of secrecy in 1915. It later slipped into half a century of obscurity after it became an affront to the new Soviet state's enmity toward avant-garde art.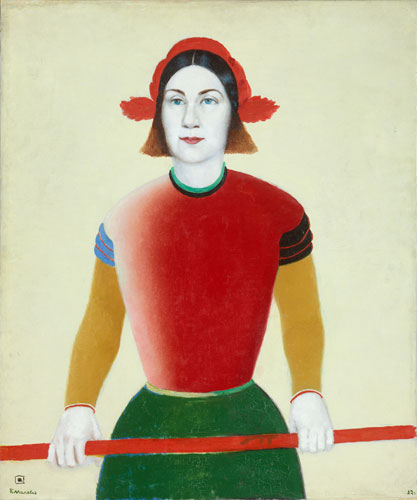 Kazimir Malevich
The exhibit has been praised in British newspapers. It runs till Oct. 26.
The part devoted to his abstract work "is as exhilarating as anything I've seen this year," wrote Evening Standard critic Ben Luke.
"Over the past 100 years, 'Black Square' has lost none of its stark power and continues to baffle and bewilder viewers today as much as it did then," wrote curator Achim Borchardt-Hume.
"Even after a century of abstract art nothing seems quite so radical as this dazzlingly simple form — more parallelogram than square — leaping into scarlet life out of pure white space, tilting eagerly forwards. The painting remains forever young," wrote Guardian critic Laura Cumming.
Born to a Polish family in 1879, Malevich grew up in Ukraine, studying drawing in Kiev before moving to Kursk and then Moscow in 1904. It was there that he became part of a group of artists, like Vladimir Tatlin, grappling with new art forms before and after the revolution.
If you want to see the original "Black Square," then head to the New Tretyakov Gallery. Too fragile to go to even Russian museums, it never made it to the London show, which places a later version at the heart of the exhibit. That painting is one Malevich made in 1923 — he made four versions up to 1929. In the latter part of his career, when he was shunned by the state and accused of being a German spy, he used a small black square as his signature on his paintings.
Kazimir Malevich
Malevich's self-portrait (1908-1910), at the State Tretyakov Gallery.
The Tate Modern recreates the 1915 exhibition, "The Last Exhibition of Futurist Painting 0.10," where "Black Square" was first exhibited. It was hung in the corner of the room, echoing the place of the icon in most Russian homes at the time and stating his revolutionary intent.
Visitors "will be able to experience something of the amazement of walking into '0.10,' which is being replicated as faithfully as possible, with the help of a single, precious archive picture of the original event," wrote The Independent critic Claudia Pritchard.
After his death, a version of "Black Square" was placed on his hearse and used in his tombstone, sadly later destroyed during World War II. An apartment block was built on his burial place last year and a monument to him nearby is inaccessible to most people.
The Tate has also organized a series of talks and guided tours around the exhibit in the next few months.
"Malevich: Revolutionary of Russian Art" runs till Oct 26. Tate Modern, Bankside, London SE1 9TG. Tel. +44-20-7887-8888. tate.org.uk