"To me, Edward Snowden is a hero," Oliver Stone said last July. U.S. Vice President John Kerry recently described him as "a coward and a traitor." In truth, Edward Snowden is a much more ambiguous figure than either of those two extreme descriptions. For a man with such a global profile, his actual life in Moscow is low profile, though he has recently been interviewed by several news organizations, notably the Brian Williams interview on NBC.
This month he will be celebrating both his 31st birthday in Moscow as well as the first anniversary of his arrival. Is Snowden lonely? Does he yearn for the U.S. and his family? Alan Bennett called his 1980s play about Guy Burgess in Moscow '"An Englishman Abroad." Snowden could well be "An American in Exile" — and Bennett said in a BBC interview in May: "The Edward Snowden stuff — I am wholly on his side."
Luke Harding was The Guardian's Moscow correspondent between 2007 and 2011, before being expelled following a series of highly critical articles and books about the state and Putin regime. Harding extensively researched Snowden for his book "The Snowden Files," published in the Britain and U.S. to great acclaim in February. It has been announced that Oliver Stone is adapt Harding's book to film before the end of the year. Harding spoke to The Moscow Times about Snowden's life in the Russian capital and helped dispel some of the myths of misinformation which have emerged.
Edward Snowden arrived at Sheremetyevo Airport in June 2013. Russia was not intended as his final destination, as he was attempting to gain political asylum in South America. It was there he met Anatoly Kucherena, a Russian attorney who persuaded Snowden to abandon his attempts for South American asylum and remain in Russia instead. But was it Snowden who approached Kucherena, and how important is he in the Snowden story?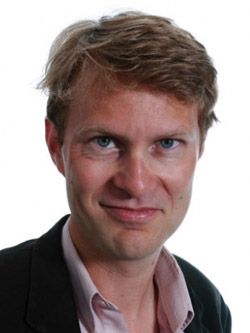 Brighton Festival
Journalist Luke Harding
"We do not know the answer to that question," says Harding. "Snowden has not said, nor has Kucherena. Kucherena has close links with the FSB — he sits on its supervisory board. I have talked to other Russians about Kucherena and they say he is not formally an FSB agent, although some people have suggested he might be. They describe him as a 'person of the system' and I think that is right. He is clearly someone inside the state rather than outside the state."
Kucherena played an important role during Snowden's initial weeks in limbo at Sheremetyevo as the only one between the American and the outside world. Now that Snowden has asylum, Kucherena has become less relevant.
After 39 days in limbo, Snowden left the airport. But then he disappeared for several months "I think what we do know is something slightly more strategic," Harding explains, "that after he got his asylum and was driven away from the airport, that Snowden took a decision that he would disappear, that he would vanish and the reason he did that was because he wanted the focus to be on the documents he leaked to The Guardian and other newspapers, which we were interrogating and publishing a lot of stories on. He did not want the focus to be on him. He was being bombarded with requests via Glenn Greensward — every single U.S. network wanted to interview him, everybody wanted a piece of him. Actually, until December of last year, he turned everybody down."
Harding clarifies that Snowden wanted the focus to be on mass surveillance, both of U.S. citizens and globally. "He did not want it to be about his pole-dancing girlfriend, the family he had left behind, and his life in Hawaii, what he did when he was a young man. Throughout this saga, Snowden's been very rational, very clever; he is thought things through step by step. I think it was a smart thing to do."
But what of his subsequent life in exile? In October various news organizations — including the BBC — reported that Snowden had begun working in "technical support" on a major Russian website. The source was Anatoly Kucherena. "Kucherena is completely unreliable as a source," says Harding.
"We [The Guardian] did the rounds of Russian IT companies when he made that claim last year and none of them — none of the big ones, at least — confirmed this. I think it is unlikely. The idea was to create an image that Snowden was leading a normal life. I think that's highly unlikely. He cannot lead a normal life."
So there is little indication of how Snowden is earning a living in Moscow and Harding believes he lives modestly and freely and spends most of his time in front of his laptop.
The Russian government granted Snowden asylum for a year and Harding is completely certain the application for asylum will be renewed. The reason — the current geopolitical situation between the United States and Russia. The fact that Snowden is in Moscow beyond the reach of any extradition agreement and American law is deeply infuriating for the Obama White House. "They are still furious about what happened. They think it has done grave damage to American national security. John Kerry, the Secretary of State, called Snowden last week a "coward and a traitor." The situation is exasperating, which means that for Russia and for Vladimir Putin — he sees the world and world diplomacy in zero sum terms — having Snowden is great. It is a source of daily frustration for the U.S. He [Putin] grew up as a young spy in an atmosphere of anti-U.S. xenophobia and this he has reproduced in power and has reached a kind of crescendo in the last couple of years and especially in the last six months, given what has happened in Ukraine and Crimea."
Does the fact that Snowden should arrive in Moscow at the moment East-West relations were chilling further make him a liability to U.S.-Russian relations? Does Russia know what to what to do with the American?
"Russia does not have to anything with Edward Snowden, it merely has to shelter Edward Snowden and that's enough," says Harding.
During his NBC interview with Brian Williams in May, Snowden stated that he has "No relationship with the Russian government at all." He had never met Putin, not taken any money and was not a spy. Former NSA Director General Keith Alexander implied a possible relationship between Snowden and the Russians there has been some speculation that Snowden was recruited by the Russians back in 2007 whilst working at the U.S. Embassy in Geneva, though the new NSA director Michael Rogers dismisses this likelihood. Equally, Harding does not see this as at all plausible due to Snowden's quintessentially Republican U.S. background: a Ron Paul voter and a libertarian with Tea Party-leanings.
"It was not done because it was a Russian intelligence plot," explains Harding. Snowden did it because he felt that the NSA had violated the U.S. constitution. "He is not a Russian spy, he has not cooperated with the Russian government. Having said all that, you have to acknowledge the fact that Snowden is not cooperating with the Russian spy agencies does not mean they are not interested in him. They are very interested in him and I strongly suspect that they will have him under surveillance."