Treat yourself this Wednesday evening to a most unusual concert starring Alevtina Polyakova, the only professional jazz trombonist in Russia.
Continuing the summer concert series "In the Sky Above Moscow," Alevtina and her band Solar Wind will perform their program "Were there no winter...". This wishfully titled show includes a cheery selection of improvisations on popular Christmas tunes and traditional Russian melodies celebrating the New Year. The concert will take place in the shelter of the pavilion under the Worker and Collective Farm Woman statue, where the musicians will endeavor to make you forget the wet February weather outside.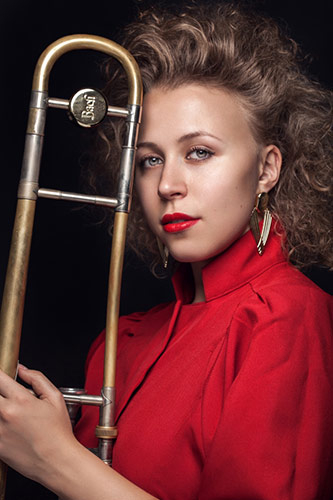 Katy Dee
Alevtina has become a national and international favorite for her role in the Big Band jazz group and appearances alongside famous names on the jazz scene such as Herbie Hancock, Wayne Shorter and Dee Dee Bridgewater. On Wednesday she'll play trombone, saxophone and sing vocals. Accompanying her will be Makar Novikov, a successful international contrabass, and member of the Russian group MosGorTrio, the pianist Artyom Tretyakov and Pyotr Ivshim on drums.
So finish up work and head over to this gig on Wednesday for what promises to be a relaxing and enjoyable evening of jazz.
Tickets cost 300 rubles ($2.75) and can be purchased at the booking office of the Worker and Collective Farm Woman exhibition center or at Voxxter.ru.
Worker and Collective Farm Woman Exhibition Center. 123B Prospekt Mira. Metro VDNKh. Wed. at 8 p.m.