The Zippo lighter company may face legal action for publishing a photo of the Olympic torch being relit using one of its lighters, because it didn't have permission to display the Olympic logo.
The photo shows Shavarsh Karapetyan, a 60-year-old former champion swimmer, extending the extinguished torch to a bystander in black coat, who attempted to bring it back to life with a cigarette lighter.
The flame had been extinguished by gust of wind, when Karapetyan was carrying the torch through a long passage way leading to the Kremlin on Sunday. The Sochi organizing committee explained the incident by saying it happened because a gas valve wasn't fully opened.
The Zippo lighter company seized the opportunity to get some publicity and flooded the Internet with video shorts and photos of the incident, all with the hashtag #ZippoSavesOlympics.
The photo is still at the top of the Facebook page of the company's Azerbaijani distributor Zippo Store Baku.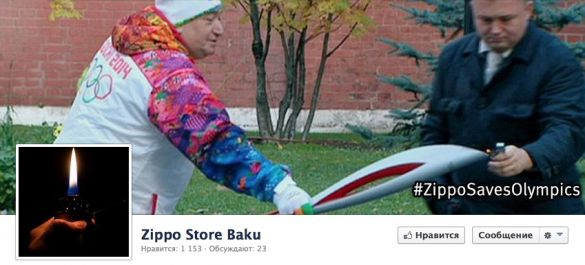 The Facebook page of Zippo's Azerbaijani distributor Baku showing the Olympic torch being re-lit. (Facebook)

It is not yet known what administrative or legal steps the games' organizers can take against the company, which used the registered Sochi-2014 imagery without permission, Sochi organizing chief Dmitry Chernyshenko said, RIA Novosti reported Tuesday.
The organizing committee "is working on it," Chernyshenko wrote on his Twitter blog.
Each torch weighs 1.8 kilogram and is designed to survive freezing temperatures and withstand winds of up to 60 kilometers per hour. They are also supposed to stay alight under water.
Video showing the relighting of the Olympic torch. (New Best News/Youtube)