Two former reporters from The Moscow Times may have finally gotten President Vladimir Putin to say that long-awaited word: "Navalny."
"I asked Putin if he deliberately doesn't say Navalny's name. Answer: "No, why? Alexei Navalny is one of the leaders of the opposition movement," reporter Alec Luhn, now with The Nation magazine, wrote on his Twitter account Thursday evening.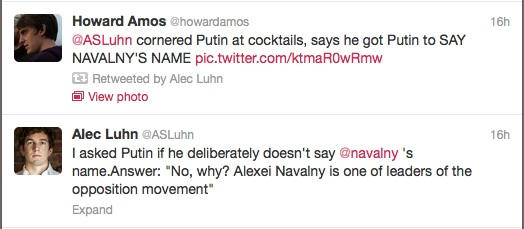 Alec Luhn tweets about his encounter with President Putin following the Valdai Disccusion Club's tenth meeting.

While there is no recording of the conversation, RIA Novosti's Howard Amos uploaded a photograph of Luhn speaking with the president.
"By the expression on the president's face, it seems that the conversation is, in fact, about the opposition," news website Slon.ru commented wryly.
Luhn and Amos were at a cocktail party following the 10th annual Valdai Discussion Club, where the president had just delivered a speech that covered a wide range of topics, from the anti-gay propaganda law to the conflict in Syria.
According to Luhn, Amos then encouraged him to battle his way through the crush around the president and ask him why he won't say opposition leader Alexei Navalny's name.
The rumors of Putin avoiding the name reached such a level that the president's press secretary finally tried to put them to rest last week.
In an interview with Slon.ru on Sept. 12, Dmitry Peskov called the situation "far-fetched" and said that "of course" the president has no rule against saying the opposition leader's name.