Gay rights activists and members of the LGBT community have apparently taken to wearing police uniforms to protest the recently passed anti-gay propaganda law.
Moscow police Tuesday detained two gay activists dressed as female police officers, one of them wearing handcuffs.
It seems they may have been inspired by a similar protest that took place in Amsterdam over the weekend, photos of which show men and women clad in Russian riot police uniforms at a gay-pride parade.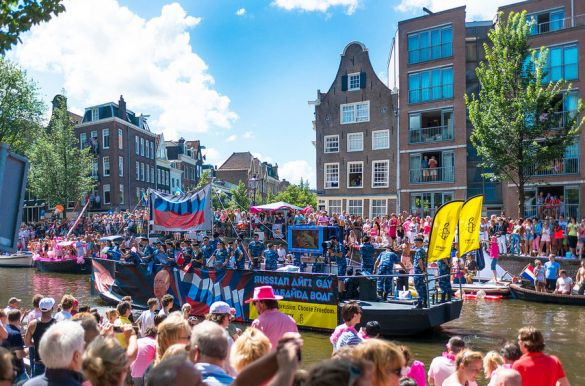 Ridus.ru
Demonstrators at Amsterdam's gay-pride rally dressed as Russian riot police as they float along in a boat.

The activists, representatives of the Dutch chapter of Amnesty International, held signs reading things like, "Too Gay" while they sailed along the river in a boat. Some of the uniforms were also supplemented with necklaces.
The pictures were met with mostly supportive comments, with people praising the effort to protest the anti-gay legislation, which stipulates fines for promoting homosexuality among minors.
One blogger, Andrei Malgin, noted that in addition to the anti-gay legislation getting publicity because of the protests, OMON, Russia's riot police, is also becoming an internationally recognized acronym.