Ferma Burger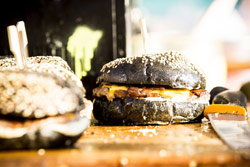 Ferma Burger
Pricey burgers in a posh neighborhood
This is the second reincarnation of Ferma, spearheaded by hipster restaurateurs Tardatian and Livsi. Ferma has reopened in a basement location at Patriarch's Ponds, an area well known for its high-end restaurants. At 430 rubles, these are the most expensive burgers on our list. Well-dressed twenty-somethings pair them with a cocktail from the bar. Don't miss Ferma's famous black bun burger with rosemary aioli, onion preserves and chili cheese fries. It's famous for a reason. Delicious.
+7 (926) 334 3049
facebook.com/farmersdinermoscow
12/2 Kozikhinsky Pereulok. Metro Tverskaya
Burgers/Hot Dogs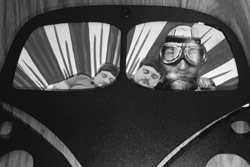 Burgers/Hot Dogs
Alternative burgers with a hip crowd
This semi-secret hole-in-the-wall doesn't have a proper name. Instead look for the sign on the door right around the corner from Mayakovskaya metro station which simply says "Burgery/khot-dogi." The crowd is hip — surfers and minor celebrities — and the burgers are only 280 rubles. As the owner makes them to order, service can be a little slow, but it's definitely worth the wait. Try the classic burger which comes with a slice of orange.
+7 (499) 990 0272
facebook.com/Burgernaya
27/2 Tverskaya Ulitsa. Metro Mayakovskaya
Burger Heroes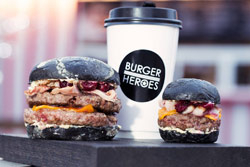 Burger Heroes
Burgers with a twist
This is one of the newest additions to the Moscow burger scene from the creators of popular Gyros for Heroes. Heroes sells several types of homemade burgers for 300 rubles. For a healthier alternative to French fries, order the sweet potato fries or carrot and parsnip fries. You can watch the whole process in the open kitchen — don't miss the burger with cactus salad.
+7 (499) 399 3596
facebook.com/BurgerHeroes
19/1 Ulitsa Bolshaya Ordynka.Metro Novokuznetskaya, Tretyakovskaya
Farsh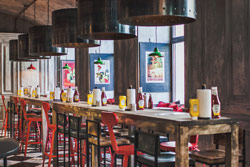 Farsh
Haute burgers
Farsh is the brainchild of upscale restaurateur Arkady Novikov, proving that even the elite are partial to a burger every now and then. The restaurant recently opened on newly pedestrianized Nikolskaya Ulitsa. A classic cheeseburger is 250 rubles, while the more complex burgers go for 350 rubles. Farsh prides itself on quality, and uses the excellent supplier Miratorg.
+7 (495) 258 4205
novikovgroup.ru/restaurants/farsh
12 Nikolskaya Ulitsa. Metro Lubyanka
BB Burgers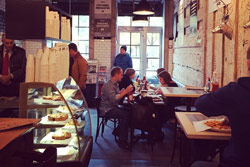 BB Burgers
Beer, buns and burgers says it all
Double "B" stands for beer and buns. Starting from one venue on Tsvetnoi Bulvar, BBB expanded into a mini-chain with seven locations. Burgers here are a bit more expensive at 380 rubles, but they are largest and the most filling on our list. Don't miss the new "most despicable dude's burger." BBB serves beer and a range of homemade lemonades, plus ribs, steak and a divine Ruben sandwich.
+7 (965) 383 3033
bbburgers.ru
7 Tsvetnoi Bulvar. Metro Trubnaya, Tsvetnoi Bulvar
The Burger Brothers
Veterans of the burger revolution
The Burger Brothers' first place was a Harry Potter-like room under the stairs near Mayakovskaya, their second location is a spacious cafe on Red October Island, testament to their growing popularity. Don't miss their trademark cowberry burger.
+7 (926) 390 1320
theburgerbrothers.ru
5/1 Bersenevsky Pereulok. Metro Kropotkinskaya, Polyanka