Moscow's children's museums used to have hands-off exhibits, boring descriptions and cranky guards. They may have had great works of art or scientific inventions, but they were, frankly, a snooze.
Not anymore. Today's kid's museums are engaging, brightly lit, colorful places with exhibits that are totally hands on, explanations geared for the younger set and helpful adults ready to assist, explain or sometimes even translate.
We sent our reporters around the city to jump, plunge, taste, play, and test-drive the exhibits at the city's best museums for children. Once we got them to stop playing, they pulled together a list of their top favorites.
Experimentanium
When you're not watching a science demonstration, you'll probably be joining your little ones as they warp their minds with optical illusions, make waves in the water zone and tentatively lower themselves onto a chair of nails. This museum-cum-warehouse doesn't do much in the way of catering for a non-Russian speaker, but is packed full of interactive stations that don't need much explanation. When you've had enough of the lasers, drums and magnets, pop into the cafe for a chocolate torte or some cheap Russian fare.
80 Leningradsky Prospekt, K.11. Metro Sokol. experimentanium.ru. 495-120-0520. Adults 450 rubles, children 350 rubles. Open daily 9:30 a.m. to 7 p.m.
VDNKh Polytechnic Museum
The museum's seven dimly lit, atmospheric chambers exploring electricity, genetics, radiation and other wonders of science are ideal for kids who love science — and better for kids who don't yet. Skip past the old radio transmitters and head straight for the fun interactive exhibits — like gloves that allow you to feel the vibrations of a magnetic field. The centerpiece is a deactivated atomic bomb, complete with howling air-raid sirens, a white flash of light and the roar of an explosion. Most exhibitions have English translations, some in the form of video lectures by cartoon bald scientists and wizened grannies.
26 VDNKh Pavilion. Metro VDNKh. polymus.ru. 495-780-6027. Adults 300 rubles, children go free. Open weekdays 10 a.m. to 7 p.m. and weekends 10 a.m. to 8 p.m.
Memorial Museum of Cosmonautics
Located in the base of a soaring monument to conquering space, the museum's exhibits are out of this world — space suits, a helicopter and a rocket simulator, satellites and models of rockets. While excursions are sometimes available in English (call ahead to arrange), the kids will be too busy exploring space first hand to listen. They can even meet Belka and Strelka: the first dogs of space are stuffed and preserved for posterity.
111 Prospekt Mira. Metro VDNKh. kosmo-museum.ru. 495-602-2073. Adults and children 200 rubles. Open daily 10 a.m. to 7 p.m.
The Fersman Mineralogical Museum
Here the beauty of the planet has been pulled out of the earth, dusted off and put on display: meteorites, precious stones and amazing minerals that look like sea creatures, fruit, furry creatures and plants. Many of the exhibits can be touched, and all of the exhibit information is in English.
18/2 Leninsky Prospekt. Metro Shabolovskaya. fmm.ru. 495-954-3900. Adults 80 rubles, children 40 rubles. Open Wed. to Sun. 11 a.m. to 5 p.m.
Moscow Lights
Take the kids on a stroll through historical Moscow and let them try their hand at being a pre-revolutionary street lamplighter or a Soviet manager of streetlights. All of the museum's many lights can be operated by the kids: modern electric lights, vintage kerosene, gas and oil lamps. Tours are available in English.
5/1 Armyansky Pereulok, D.3. Metro Lubyanka. ognimos.ru. 495-624-7374. Adults 100 rubles, children 50 rubles. Open Tues. to Sat. 11 a.m. to 6 p.m.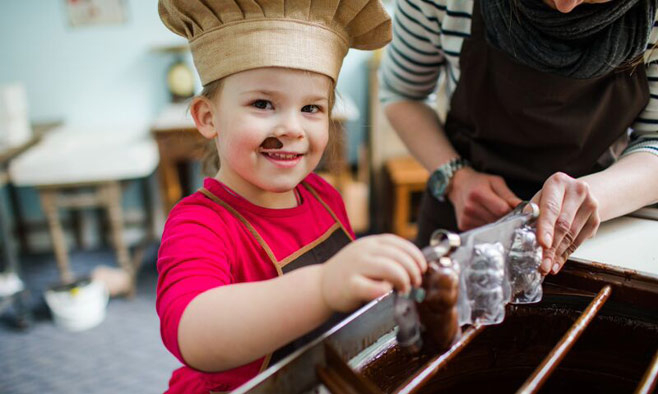 World of Chocolate Photographer
At the World of Chocolate Museum, you get to make and eat the exhibits.

Museum of Illusions

As soon as you walk in the door, you enter bright and colorful rooms painted with cartoon characters, different lights and perceptions of space — like the very popular slanted room. Kids dash, laughing, from room to room, trying out the optical illusions, like "hanging" themselves from a hook held by a baby. Bring your camera: the fun is taking photos of your family that makes it look like they were in outer space or turned into giants (pictures on the wall show the best way to take photos). There aren't any signs in English, but you don't need them: illusions don't require translation.
4 Maly Nikolopeskovsky Pereulok. Metro Arbatskaya. bestmuseum.ru. 499-340-0113. Adults 350 rubles, children under 4 go free. Open Mon. to Fri. 11:30 a.m. to 11:30 p.m.
The Doll House
If you have a child who likes dolls, this is the place for a happy afternoon. Over 1,500 dolls, toy soldiers and stuffed animals are scattered about the homey museum. Each one has its story: some survived World War I in a child's hand, another lived with the royal family, and others have seen thousands of years of history. Lessons in doll-making and excursions in English available upon request.
13 Ulitsa Pokrovka. Metro Chistiye Prudy. dollmuseum.ru. 495-625-6405. Adults 200 rubles, children 100 rubles. Open Tues. to Sun. 10 a.m. to 6 p.m.
Planetarium

Enter a world of black holes, hurricanes, zero gravity, optical illusions and a 4-D constellation exhibition. Kids can create artificial clouds and tornadoes, generate electrical energy to compose music, take a space bike ride and find out how much they'd weigh on other planets. Free astronomy lessons and excursions are available for all ages — with English options available per request.
5 Sadovaya-Kudrinskaya Ulitsa. Metro Barrikadnaya. planetarium-moscow.ru. 495-221-7690. Adults and children from 450-600 rubles. Open daily (except Tues.) 10 a.m. to 9 p.m.
World of Chocolate Museum
It's a museum about chocolate. What else do you need to know? You mold your own chocolate animal, go on a very interactive tour (available in English upon request), learn about spiritual cocoa drinks among ancient tribes, pre- and post-revolutionary chocolate-making in Russia, and do lots of sampling. A history lesson that you can eat — it doesn't get better than that.
2/3 Pervaya Brestskaya Ulitsa. Metro Mayakovskaya. chocoandcacao.ru. 495-233-8212. Adults 500 rubles, children under 5 go free. Open Tues. to Sun. 11 a.m. to 7 p.m.
Kidburg

This tiny city inside the Detsky Mir store has its own port, bank, hospital, police station, television and radio stations, newspaper, school dance, fashion house, supermarket, city cafe and bakery — each a learning station where a "worker" tells visitors about his or her profession. While no English guides are provided, children still have fun roaming the streets and trying their hands at their dream jobs.
5 Teatralny Proezd, 5th floor. Metro Lubyanka. kidburg.ru. 495-739-5907. Adults 400 rubles, children 850-1,200 rubles. Open daily 10 a.m. to 10 p.m.