Alexander Livshits, a former finance minister who told businessmen during the economically challenging 1990s "you have to share," was buried on Monday in Moscow.
Livshits, who held various governmental jobs before becoming finance minister during President Boris Yeltsin tenure, died in Moscow from heart failure.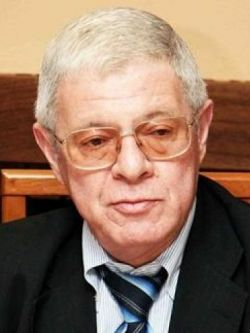 Alexander Livshits
wikipedia.org
He was 67.
Livshits was known for his refined manners, despite being tough with ministries and regional governors who demanded money for various projects from the cash-strapped government.
Although Livshits, an economist by training, only served as finance minister from August 1996 to March 1997, he was known to be a tough guardian of state finances who challenged businesses that avoided paying taxes.
During his tenure as minister, Livshits was known for his phrase "Don't be spiteful; you need to share," which he told entrepreneurs who were reluctant to pay taxes.
Some newspaper columnists during that time said Livshits kept a parrot in his office that repeated those words. Livshits said the parrot was only a toy and he kept him at home.
The late ex minister also kept a picture of his father, who was a war hero, in his office and was known for helping veterans.
After leaving the government in 1999, Livshits worked at several banks and was a deputy vice-president of aluminum giant RusAl.  
He also contributed an economic column to Izvestia newspaper, written in his trademark style of short simple phrases.
"He was an interesting person and a professional man in his work," former Finance Minister Alexei Kurdin said on Twitter, expressing his condolences.  
Livshits was buried at Danilovskoye cemetery. His wife and two daughters survive him.