Russian prosecutors have launched proceedings into a Kazan-based newspaper for a racially offensive article about construction workers ahead of the World Cup.
The Vechernyaya Kazan daily sparked heated debates last week for including the word "negro" in the headline of an article about African students hired to work ahead of the tournament this summer. Supporters of the newspaper argue that the Russian version of the word is not tinged with racist undertones, unlike in countries that participated in the Atlantic slave trade.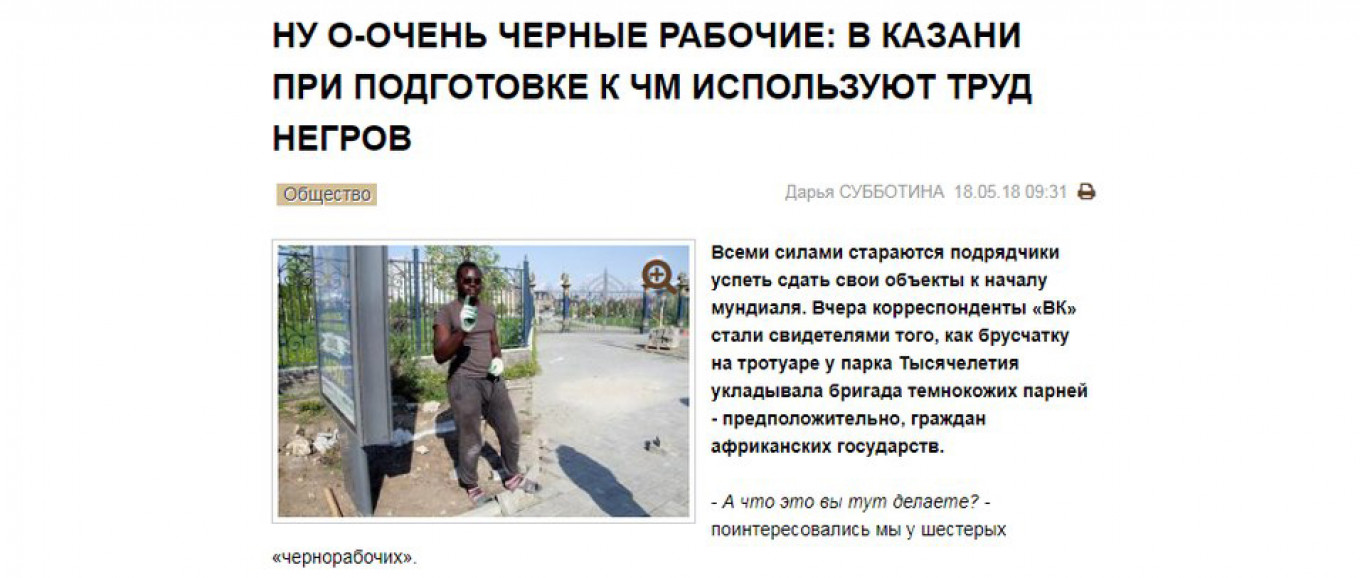 Prosecutors in Russia's republic of Tatarstan initiated a probe into the article, acting on a complaint by a local lawmaker, the Prokazan.ru publication reported Friday.
"I didn't think that our media would publish such ambiguous pieces in the run-up to the World Cup," the lawmaker who issued the complaint, Alexander Sidyakin, wrote in a social media post.
"It is all the more offensive that this was intended for readers in Kazan, who of course did not appreciate the publication's humor. I didn't appreciate it either, but maybe the prosecution will," he added.
The regional prosecutor's office will decide whether to open an investigation after the inspection, its deputy chief Ruslan Galiyev was cited as saying.
The headline in question also featured the phrase "V-e-ery Black Workers," a play on the Russian word "chernorabochiy," which refers to an unskilled worker.
With less than three weeks to go before the World Cup kicks off in 11 Russian cities including Kazan, Russian officials have led a crackdown on incidents that could mar the country's image.