This past week has been incredible. Warm days, sunny skies and an overall feeling of spring having finally sprung should have been more than enough to put a smile on your face. But if that hasn't put a spring in your step — pun intended — well, there are always plenty of other options, including live performances this weekend and preparing great pranks for April Fool's Day, of course! That is not till next week, though, so let's just focus on the former and check out exactly which artists are in town over the next couple of days.
Friday is a day I personally have been waiting for — and before you scoff and tell me everyone always eagerly awaits Fridays, let me tell you why this one is special: Lamb is coming to Moscow! Lamb are an electronic music duo from Manchester, England, whose music is influenced by trip-hop, drum and bass and jazz. The duo, consisting of producer Andy Barlow and singer-songwriter Lou Rhodes, create these intricate, hypnotic beats that are definitely worth hearing live.
Lamb was originally formed back in the 1990s, which is also when they recorded and released two of their most popular and commercially successful tracks, "Gorecki" and "Gabriel." But despite playing great live gigs and going on a number of tours, the band called it quits in 2004. Luckily for the fans, Andy and Lou decided to give it another go and regrouped in 2009. Since then, they have played dozens of festivals and released their fifth studio album, titled "5" and the band's first ever live album, "Live at Koko." They have been touring pretty frequently since then and have finally included Moscow in their schedule, so do not miss them perform! Lamb will be taking to the stage at Glavclub this Friday, March 28 at 8 p.m., so get your tickets now and don't be late!
Now, if you are a techno and house fan, then I do not even need to tell you that you need to be at Arma 17 this Saturday for the annual Save festival! This year's event will be bittersweet: fans of the Arma 17 club know the building is being closed down, and the club will move, so this Saturday's all-nighter will be Arma's swan song of sorts, and have they got the lineup to make it a great one! The founder of house record label L.I.E.S.,Ron Morelli, is scheduled to play with Lee Gamble from Britain, as are Germany's Diamond Version and Rashad Becker, Americans Laurel Halo and Steve Summers and British IDM veteran Chris Clark. The party kicks off at midnight, so don't be late!

But if you are looking for something a bit more laid back and melodic, then I would suggest going to see Nino Katamadze and Insight. Nino is a Georgian jazz singer and musician, and her concerts are guaranteed to leave a lasting impression. She has released seven albums to date and has had a number of successful international tours in different countries across Europe. This year, Nino and her band are celebrating their 15th anniversary, so you can definitely expect them to put on fantastic performance. See Nino Katamadze and Insight play at the International House of Music this Saturday at 7 p.m.
Sunday is up to you, depending on what you would rather see live: classic British rock band or young British pop band. Smokie will be performing all their golden oldie glam rock hits at Crocus City Hall, and 5ive will, as their song goes, "make you get up now" at Arena Moscow.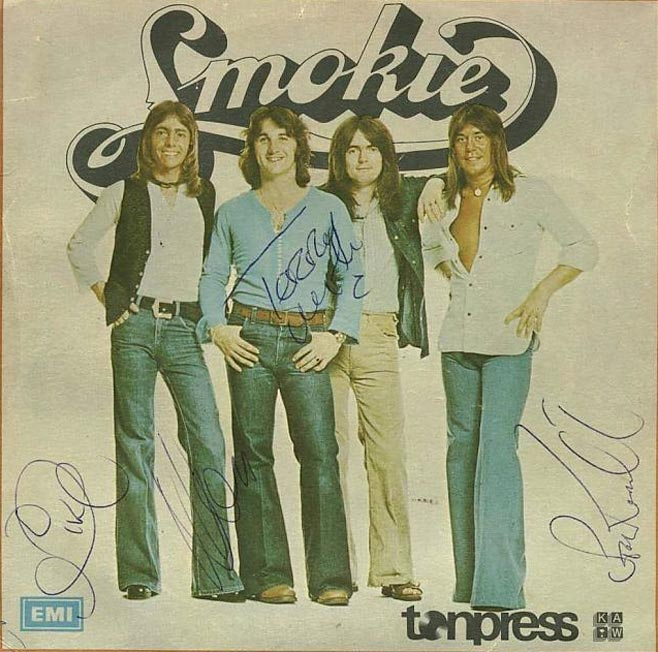 EMI
Classic British rock band Smokie will be playing old favorites on Sunday.
So, if you really want to know what it is like Living Next Door to Alice or to Lay Back in the Arms of Someone, get your tickets ASAP — Smokie is still very popular in Russia, and those tickets will go fast. And if British boy bands are your thing, then you owe it to yourself to honor 5ive's second reunion in two decades and see if they have anything new to offer. They should, because they have been working on a new album while on tour, so fans may even get a sneak preview!
That is what the weekend looks like, folks — plenty of concerts lined up, plenty of memories to be made. Just remember to spend some time outdoors as well, it has been a long winter! And whatever you choose to do, have a great time!
Katerina Azarova is a radio host at Moscow FM 105.2, Moscow's English-language radio station.