Civil rights organization Human Rights Campaign has launched a t-shirt campaign in support of Russian gays in an attempt to draw attention to what it has called the "Russian government's ongoing campaign of homophobia."
"We will not sit quietly as the Russian government charts a path that puts LGBT Russians in harm's way," a statement on the organization's website says.
The "Love Conquers Hate" campaign asks supporters of the protest action to purchase a Russian-language version of the organization's signature t-shirt and share a picture of themselves wearing the garment on their social media with the hashtag #LoveConquersHate.
Launched on Monday, the campaign has already drawn an army of prominent politicians and celebrities.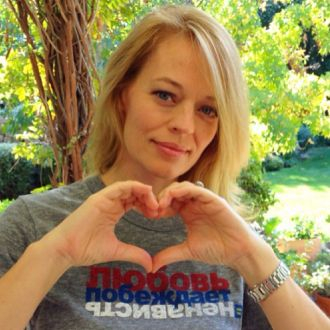 Actress Jeri Ryan showing her support of the HRC campaign. (humanrightscampaign / Instagram)
Actors Jonah Hill and Jamie Lee Curtis, singers Fergie and Ricky Martin, Olympic swimmer Craig Gibbons and football player Jozy Altidore are among the many celebrities who have shared a pictures of themselves wearing the "Love Conquers Hate" t-shirt through social media to encourage more people to participate.
Actor Kevin Bacon showing off the HRC t-shirt. (humanrightscampaign / Instagram)
President of Human Rights Campaign Chad Griffin said the organization remains committed toward repealing the "heinous" Russian anti-gay law and is stepping up its activities ahead of the Winter Olympics in Sochi.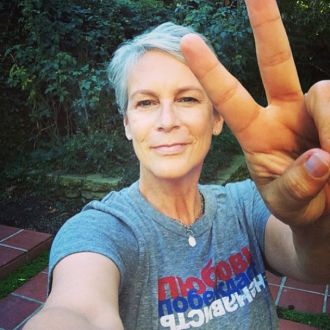 Actress Jamie Lee Curtis also joined the 'Love Conquers Hate' campaign (humanrightscampaign / Instagram)
HRC previously asked the International Olympic Committee (IOC) and its corporate sponsors to condemn the law, which bans the "promotion of non-traditional sexual relations to minors" and went into effect in June this year.
The rights group says all proceeds from the campaign will go toward a fund that supports LGBT activists in Russia.