Amateur video footage showing toppled trees after Wednesday's windstorm in the town of Yefremov. (Tatyana Elagina / YouTube)
Tula Governor Vladimir Gruzdev arrived in the town of Yefremov to personally coordinate the cleanup operation in the aftermath of the windstorm that hit the area.
The governor declared a state of emergency in the town, 300 kilometers south of Moscow, after 20 people suffered injuries and one person was hospitalized in Wednesday's incident.
The hurricane left more than 200 buildings without gas and power. It damaged 179 residential dwellings, five schools, two kindergartens and a number of businesses, the Emergency Situations Ministry said.
"We are keeping the situation under control," Gruzdev said. "In the first place, it is important to restore the systems that support people's lives, starting with replacing windows in damaged buildings, and assessing the damage," he added.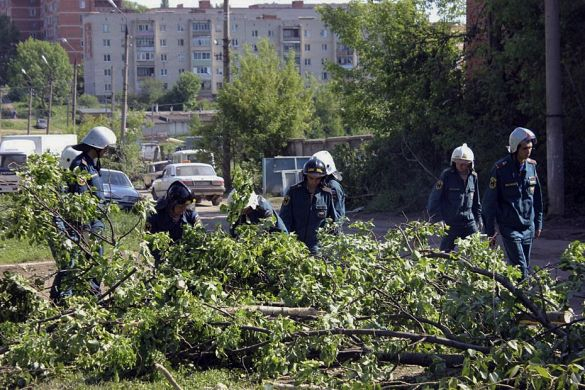 Workers cleaning up damage from the storm. Those affected were promised compensation by the government. (Ministry for Emergency Situations / AP)

Video footage posted on YouTube shows toppled metal fences, rows of splintered trees, and concrete-block buildings with broken glass windows.

A small army of 3,500 people and 448 pieces of equipment have been mobilized to restore the services and deal with the aftermath of the storm, Interfax reported.
Over 50 trees and 15 lamp posts were also toppled in the storm.
The governor said that the regional authorities will pay as much as 50,000 rubles ($1,500) to those affected by the windstorm and that the government will create a special committee to review applications for support on a case-by-case basis.