In what would seem to be the perfect gift for patriotic candy lovers, a Russian chocolate maker has started producing chocolate bars that feature images of President Vladimir Putin.
The chocolate bars by the St. Petersburg-based chocolate manufacturers Shokobox are part of a series titled "President," and come in dark, milk and white flavorings.
Visitors to the Shokobox web shop are greeted with the message: "By buying this product, you are raising Russia's gross domestic product!"
The bars each cost 150 rubles ($3.30) and feature different images of the Russian president that aim to show a softer side to the Russian leader.
The dark chocolate bar, which is labelled "gorky" (bitter), features an image of Putin crying after he won the presidential election two years ago. The strongman leader later pinned his tears on a strong wind that was blowing at the time.
The milk chocolate bar, which is labelled "dobry" (kind), displays an image of Putin hugging a puppy, while the white-flavored chocolate bar, labelled "nezhny" (caring), shows Putin nursing a young deer.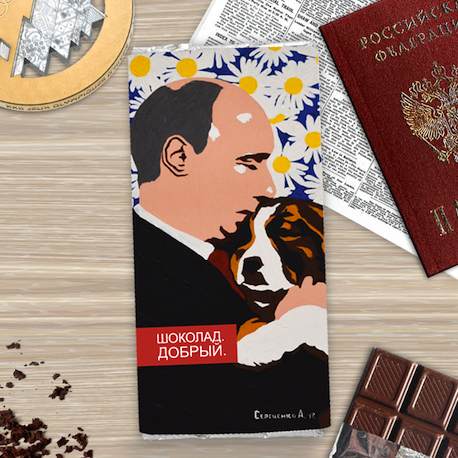 Putin's spokesman Dmity Peskov recently said the president disproved of the use of his image for commercial reasons.
But the presidential administration will not be cracking down on manufacturers using Putin's likeness as "it's not the main issue on the day's agenda," Peskov was cited as saying by the Izvestia daily.