The regional government in the republic of Sakha has allocated 34 million rubles ($1 million) to hunt wolves that roam the northeastern republic and have eaten more than 8,500 farm-raised deer so far this year, local officials said.
The number of wolves in the republic, formerly called Yakutia, is hard to estimate because the predators are continuously on the move around the vast republic. However, analysis of the animals' winter tracks indicates that their numbers ranged between 10,000 and 12,000 during the previous three years, the Sakha game management department said in a statement Tuesday.
Some of the wolves stay close to deer and horse farms to prey on domesticated animals, and the number of those predators is estimated at around 1,000, the department said.
From January to October, 2013, wolves ate 8,591 herd deer and 225 herd horses, nearly the same number as last year.
Hunters have taken out 770 wolves through November. The regional government is offering hunters 20,000 rubles for each wolf they shoot.
Some of next year's 34 million ruble budget will also be spent on light "Aeroshoot" aircraft that will hunt the wolves from the air. Тhe Aerochute website features pictures of the vehicles, which have airboat-like propellers and parachutes attached to a pair of metal seats.
In 2013, the republic of Sakha allocated 32 million rubles for wolf hunting.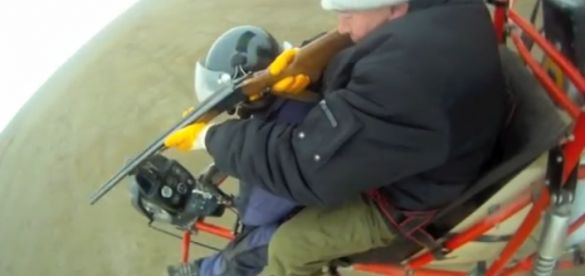 Hunters on an Aerochute aircraft hunting wolves. Air Sport Russia / airsport.ru