Flamboyant Chechen leader and Instagram aficionado Ramzan Kadyrov decided to have a little fun with his thousands of online followers by posting photos of himself posing with someone who appears to be his identical twin.
"Dear friends, I will reveal a secret to you, but please don't tell anybody," Kadyrov wrote beside the first photograph, which depicts him and his lookalike facing each other in the marble corridor of a building. "I have sent my double to work instead of me today. Let's see how he manages!"
In the second photo, Kadyrov and his double are shown enjoying dinner with French actor Gerard Depardieu and British actress Elizabeth Hurley, who are in Grozny filming "Turquoise," a drama about a Frenchman who travels to Russia to track down the man who killed his son.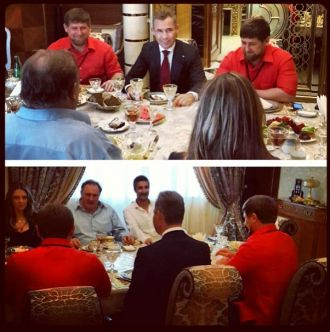 Kadyrov and his double dining with Gerard Depardieu and Elizabeth Hurley.
(Kadyrov_95 / Instagram)
A third picture depicts the two Kadyrovs deliberating whether the Chechen leader should give his cat to his double or to Hurley.
After the series of posts, Kadyrov acknowledged that photos were "a joke."
"This is how rumors start," he noted wryly.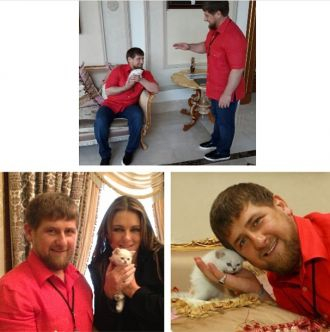 Kadyrov debating what to do with his cat. (Kadyrov_95 / Instagram)

Related articles: