More than 4 million people took part in Easter mass late Saturday night at more than 10,000 churches and monasteries holding services throughout Moscow.
Masses, sacred processions and commemorations of the departed were held to mark the Orthodox holiday, with more than 70,000 policemen and internal troops on duty to ensure order throughout the celebrations, the Interior Ministry said in a statement Sunday.
"Easter Sunday gives millions of people joy and hope, and it inspires good deeds and benevolent aspirations," the Kremlin said in its Easter message. "It directs people to the long-standing spiritual values that have played a special role in Russia's history, and it nourishes national culture."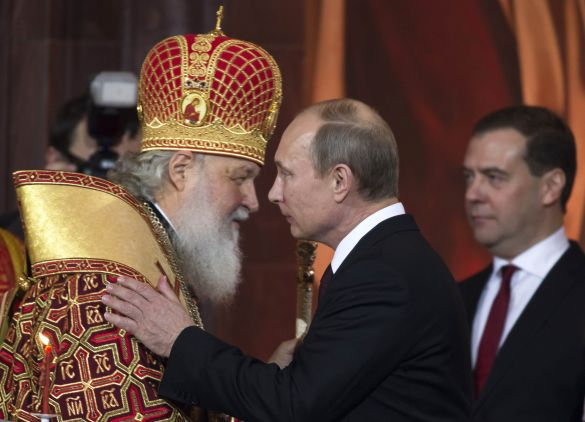 Patriarch Kirill greeting President Vladimir Putin at mass late Saturday. (Alexander Zemlianichenko / AP)

President Vladimir Putin also congratulated the head of the Russian Orthodox Church, Patriarch Kirill, who led mass at Christ the Savior Cathedral late Saturday night.
"I would like to express special gratitude for your selfless labor and note the giant personal contribution you've made to preserving social peace and conciliation, harmonizing interethnic and interconfessional relations, and solving the most pressing issues of culture and the nation's moral wellbeing," Putin said in comments carried by Interfax.
Patriarch Kirill issued his own Easter message over the weekend, urging Russians to "embrace this holy day" that represents a "celebration of victory and freedom."
Vsevolod Chaplin, a senior church official, called on people planning to participate in Sunday's opposition protest to remember that it was Easter, a day to realize that "there is something much more important than political disagreements," RIA-Novosti reported.