WASHINGTON — Ukraine's presidential election might tilt Ukraine's orientation away from the West, but leading candidates of all stripes have sought help from expensive U.S.-based political operatives.
Candidates have hired campaign consultants, lobbyists and public-relations firms with deep ties in Washington. With an interest to securing vital connections, the most prominent candidates have sought firms with ties to recent U.S. presidential candidates, including U.S. President Barack Obama, Secretary of State Hillary Clinton (both Democrats) and Republican Senator John McCain.
While some of the U.S. contracts are aimed at importing political expertise into a country with relatively little experience with campaigning in a democracy, the candidates also seem to want to show off their Washington connections to their constituents.
"Ukrainian politicians think it is crucial to cultivate an audience in Washington both for domestic political legitimacy and to facilitate their agenda," said Samuel Charap, an analyst on the region at the Center for American Progress in Washington.
Pro-Russia candidate Viktor Yanukovych, whose Kremlin-backed election victory in 2004 was overturned by the Ukrainian Supreme Court amid street protests and allegations of fraud, has employed Paul Manafort, a Washington political strategist who helped McCain's 2008 presidential campaign and whose partner Rick Davis was McCain's campaign manager.
Former U.S. Assistant Secretary of State David Kramer, now an analyst on the region at the German Marshall Fund, said Yanukovych may seek to reach out to the Obama administration should he win.
"He is going to try to show that he is not such a bad guy, that he is misunderstood and that Washington can work with him," Kramer said.
Prime Minister Yulia Tymoshenko, who is considered Yanukovych's chief rival for the presidency and is more westward-leaning, has relied on media consulting firm AKPD, which was founded by Obama's now chief-of-staff David Axelrod. Axelrod no longer works for the firm.
President Viktor Yushchenko has been getting polling and advice from Clinton's campaign strategist Mark Penn, as well as the Kiev office of PBN, a Washington-based consulting company.
Through PBN, Yushchenko has been distributing frequent English-language releases on the race and his candidacy to U.S. journalists. Kramer said that effort might be about burnishing his reputation for the history books.
"He doesn't have much of a chance," Kramer said. "The explanation might be legacy."
Another leading candidate, Sergei Tigipko, a former economy minister, turned to British firm Bell Potinger to help raise his profile with a trip to Washington last year.
The size of most of the U.S. contracts are hard to estimate because the consultants have not registered under U.S. lobbying laws. None of the firms would comment on their work, but their employment is widely known in Washington and Kiev.
For the same reason, it also is hard to determine the range of services offered by the firms. Some of their connections with prominent U.S. politicians suggest that Ukrainian candidates also are looking to demonstrate their access in Washington.
Main Players in Ukraine's Election
A total of 18 candidates took part in Ukraine's presidential election Sunday, including President Viktor Yushchenko, Prime Minister Yulia Tymoshenko and former Prime Minister and opposition leader Viktor Yanukovych. Others taking part include former central bank head Sergei Tigipko, parliament Speaker Volodymyr Lytvyn and former Speaker Arseniy Yatsenyuk. Here is some background on the main players:
Yulia Tymoshenko, 49, prime minister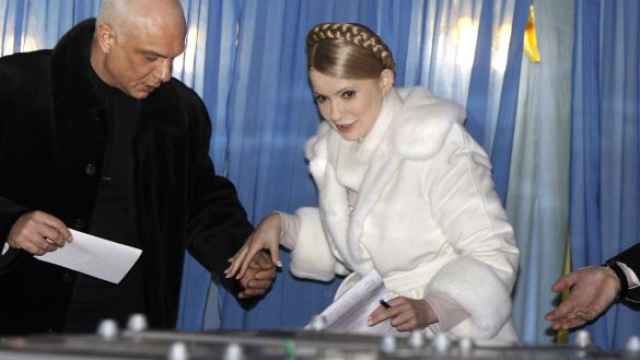 Sergei Grits / AP
Her energy, impassioned speeches, and peasant-style hair braid make her one of the most dominant figures in Ukraine.
Called the "gas princess" for her early involvement in the gas industry, from which she is believed to have amassed a fortune, she was deputy prime minister in charge of energy in 2000 and won praise for her reform efforts.
Born in November 1960, the slightly built Tymoshenko wears eye-catching designer outfits from Paris fashion houses.
After being dismissed as deputy prime minister, she spent several weeks in jail in 2001 accused of forging customs documents and smuggling gas. She was subsequently cleared of all charges.
She was allied with Viktor Yushchenko, now president, during the 2004 Orange Revolution when her rousing speeches kept hundreds of thousands on the streets for weeks. The two are now deadly rivals.
Yushchenko appointed her his first prime minister in 2005, but the honeymoon was short-lived — he dismissed her after eight months, with each accusing the other of corruption. She was appointed for a second time in December 2007.
Her policies included compensation for depositors who lost Soviet-era savings, price controls on food and medicines to bring inflation down, calls for a review of murky privatizations and high social spending.
For some time, she was ridiculed in the Russian media, but in late 2008 the Kremlin, seeing her opposition to Yushchenko, got swiftly behind her for the presidency in Ukraine.
In early December, Prime Minister Vladimir Putin denied that Moscow was backing her for president.
Putin and Tymoshenko met in Yalta in November and brokered a deal between their state energy companies that gave Ukraine softer terms for buying natural gas and avoiding a repeat of last year's gas dispute.
Although she was born in the Russian-speaking east, she has spent many years improving her Ukrainian to broaden her appeal.
Viktor Yanukovych, 59, opposition leader, former prime minister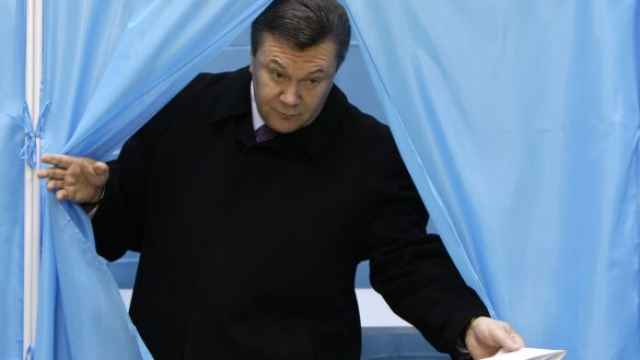 Grigory Dukor / Reuters
Born in July 1950, the beefy and blunt Yanukovych has changed his image to become a more capable public speaker.
A native Russian speaker from the Donbass coal-field region, he has made efforts to speak better Ukrainian, the country's national language, but he often stumbles over words.
He is widely seen as representing the interests of Ukrainian big business and his campaign benefits from backing by shadowy billionaire Rinat Akhmetov.
Backed in 2004 by Moscow, he was initially declared the winner of a rigged presidential election, but lost the rerun of the poll to Yushchenko.
He made a comeback in 2006 when Yushchenko appointed him prime minister after Orange parties failed to form a coalition. However, he left office after his Party of Regions and its allies were outscored by Orange parties in snap 2007 elections.
Yanukovych has warmer relations with Russia and is cool about Yushchenko's plans to seek fast-track NATO membership. Like most politicians in Ukraine, he supports further integration with the European Union.
In his youth, he was imprisoned twice for theft and assault. His aides said the charges were struck from the record and no documents are available on the issue.
At the start of official campaigning in October, Tymoshenko's supporters went on the offensive against Yanukovych.
Tymoshenko loyalists revived old rumors that Yanukovych had taken part in a gang-rape and beating of a woman when he was a youth. They said these charges had been brought to the attention of the prosecutors several years ago. Serhiy Lyovochkin, deputy head of Yanukovych's Party of Regions, denied the accusations.
Sergei Tigipko, 49, head of the Strong Ukraine political party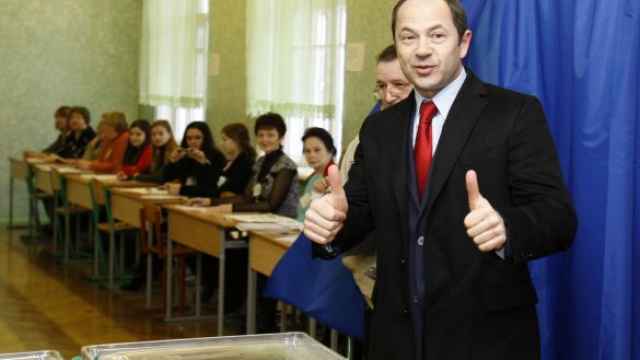 Reuters
Headed Ukraine's central bank from 2002 to 2004 and served as deputy prime minister for economic issues from 1997 to 2000.
Headed Viktor Yanukovych's election staff in 2004 but left the post before the third round of voting that brought Yushchenko the presidency.
Tigipko, a former co-owner of several banks and companies, resumed his active political career just before the 2010 presidential election.
He says the country needs deep structural reform in all economic sectors.
His election slogan is "A strong president — a strong country."
He says he will decline to support any candidate if he fails to advance through the first round and will continue his political career in opposition to both Yanukovych and Tymoshenko.
Viktor Yushchenko, 55, president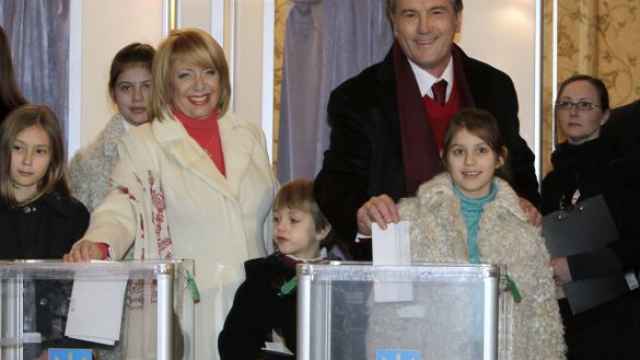 David Mdzinarishvili / Reuters
The former central bank chief and prime minister was the victim of dioxin poisoning in the 2004 presidential campaign. His face was disfigured, and he underwent a series of operations.
Yushchenko has made membership of NATO and the European Union cornerstones of policy. Born in northern Ukraine in February 1954, he is religious and deeply committed to Ukrainian statehood.
His insistence that the 1930s Stalin-era Holodomor — the famine in Ukraine and neighboring Soviet republics in which 7 million to 10 million people died — was a deliberate genocide has angered Moscow.
Popular support after his victory in the rerun 2004 election ebbed away as his aim of turning Ukraine into a modern state with a Western orientation gave way to infighting and indecision.
His credibility fell further after he agreed to appoint Yanukovych prime minister in 2006, subject to a deal that was supposed to leave pro-Western policy goals intact.
Yushchenko regularly criticizes Tymoshenko. He has accused her government of everything from using fears of a swine flu epidemic to secure more money for the budget, to striking a ruinous deal with Russia over natural gas supplies.
— Reuters