Sage Kotsenburg picked up gold for the U.S. Olympic team in the men's slopestyle snowboarding finals on Saturday, with a first-round score of 93.50.
Staale Sandbech of Norway picked up silver, while Canada's Mark McMorris — who was competing with a broken rib — took bronze.
Russian hopeful Aleksey Sobolev failed to make Saturday's final, while favorites American Shaun White and Norwegian Torstein Hogmo withdrew from the competition earlier in the week.
The slopestyle finalists were given two runs down the course, which is littered with boxes, jumps and rails. Riders were awarded points on the basis of the creativity of their tricks, rather than the speed with which they descended the course.
The sport — which made its Olympic debut this year — found itself at the center of some controversy earlier this week, with several competitors raising concerns about the course ahead of Thursday's qualifiers.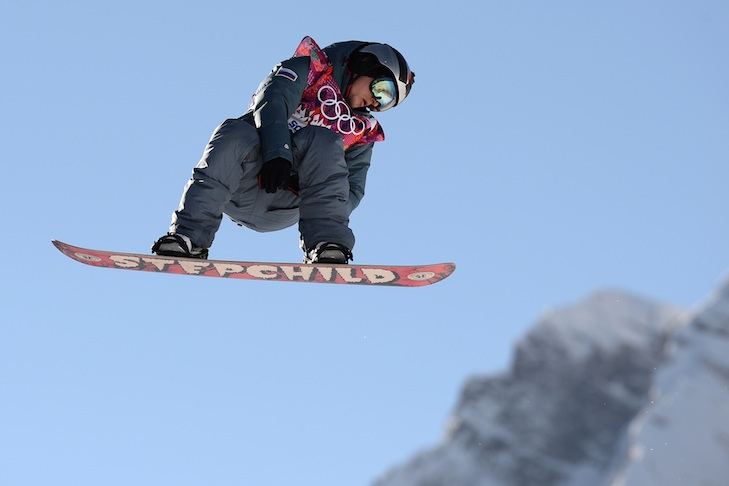 Russian hopeful Aleksey Sobolev failed to qualify for the finals on Thursday. (Ramil Sitdikov / Ria Novosti)

U.S. extreme snowboarder Shaun White — who has two Olympic gold medals and 13 X-Games titles to his name — pulled out of the competition Wednesday, telling USA Today that "The potential risk of injury is a bit too much for me to gamble my other Olympic goals on." White will instead focus on his other event, the halfpipe, with qualifiers starting Feb. 11.
On Monday, slopestyle gold medal hopeful Torstein Hogmo broke his collarbone while attempting to pull off a difficult trick during practice.