Prosecutors have suspended the Left Front opposition group for three months in what critics of President Vladimir Putin say is an intensifying crackdown on dissent sponsored by the Kremlin.
The decision by Moscow prosecutors on Friday means that the Left Front, whose leader Sergei Udaltsov played a prominent role in street protests last year against President Vladimir Putin, is not allowed to hold meetings or protests or use its symbols or bank accounts until July 19.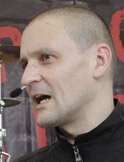 Sergei Udaltsov
MT
That would cover the first anniversary of Putin's presidential inauguration when the opposition groups have vowed to stage a mass demonstration to revive the protest movement that has died out over the winter.
"We consider the Moscow prosecutor's office actions a political order aimed at closing down the Left Front," said Udaltsov's Twitter account, which has been run by his aides since the shaven-headed activist was placed under house arrest.
The prosecutor's office said the Left Front failed to declare its goals, as required, and did not publish annual financial reports. It said the group had not responded to earlier calls to respect the law.
"They have three months now to change that, or the next step is to seek a closure of the group altogether," prosecutor's office spokeswoman Yelena Rossokhina said.
The Left Front said it would appeal against the decision and in the meantime operate as the New Left Front.