Former Colorado Governor Bill Owens has been appointed as chairman of the Credit Bank of Moscow's supervisory board, the bank said in a statement Wednesday.
Owens, a Republican, served as the governor of Colorado from 1999 to 2007. He has been a student of the Soviet Union and Russia since the 1980s.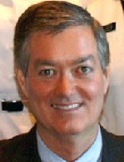 Bill Owens
Wikipedia
He will replace Sandy Vaci, who will retain a seat on the supervisory board. Vaci has held the position for five years.
Commenting on his decision to step down, Vaci told the board of the need for "a strong independent chairman who can guide it through the [initial public offering] process and stay on afterwards to provide the continuity investors demand".
"As I have been in the position for five years, I may not be able to fulfill that requirement.  Anyone with 7 to 8 years in a post could be considered 'too close to the business' to claim independence," Vaci said.
The Credit Bank of Moscow has been considering an IPO for some time without ever providing any specific details of the offering, Vedomosti reported.
Its principal owner, Roman Avdeyev, said earlier that the bank planned to float 20 to 25 percent of its stock in the next three to five years.
Mark Rubinshtein, head of the research department at investment company Metropol, says the current market is not favorable for holding an IPO, but companies planning a public placement have a good opportunity to prepare for it and wait for the right moment.