Two years into the construction of Forum City, the first three towers of this new residential complex are already a prominent feature of Yekaterinburg's city center.
With the landscape connecting them finished, Marianne Loof and Adriaan Mout — partners in the Dutch designer of the project LEVS architecten — told The Moscow Times about their vision to bring together urban planning, architecture and landscaping in a single design to solve some of the problems in Russian inner-city life.
"One of the great opportunities we see as Dutch architects working in Russia is to contribute to the production of real quality of life, not only inside the home but in residential urban environments in general," said Loof. "With the design of Forum City, we sought to address several pressing issues facing Russian city life."
She explained that one of these is the lack of safe intimacy in public spaces. This is often the result of a discontinuous layout of the urban plan in residential neighbourhoods. When buildings do not align with roads, the street-level experience can become anonymous, distant and non-inviting, marked by characterless open spaces and parking lots.
This was definitely the case in the district where Forum City is being constructed. In Yekaterinburg, the straight grid is a key historical feature of the city, yet it is often lost in the segmental development of individual projects. Forum City repairs Yekaterinburg's historical urban grid structure through a combination of towers and facades that stretch along the main throughways.
"By combining a continuous facade along the streets with open towers, we managed to create a European-style metropolitan experience inside a residential complex," Loof said.
Metropolitan intimacy
In the nineteenth century, Yekaterinburg was predominantly a brick city. Strong facades with details in the brickwork were found all over the city. Many of these were replaced over the course of the twentieth century with high-rises made from concrete, steel and glass.
"Our design reflects this transition from past, to present and into the future," said Mout.
"The outside facades are straight and made of red bricks. The brickwork extends to the tenth floor at most, after which the taller towers continue up with predominantly aluminium and glass elements. On the inside, facing the inner towers and landscape, the facades are always curved. Diagonal views between them open up toward the skyline of the wider city. This is the cityscape of a new metropolitan lifestyle: a dynamic environment where living, leisure and work blend seamlessly."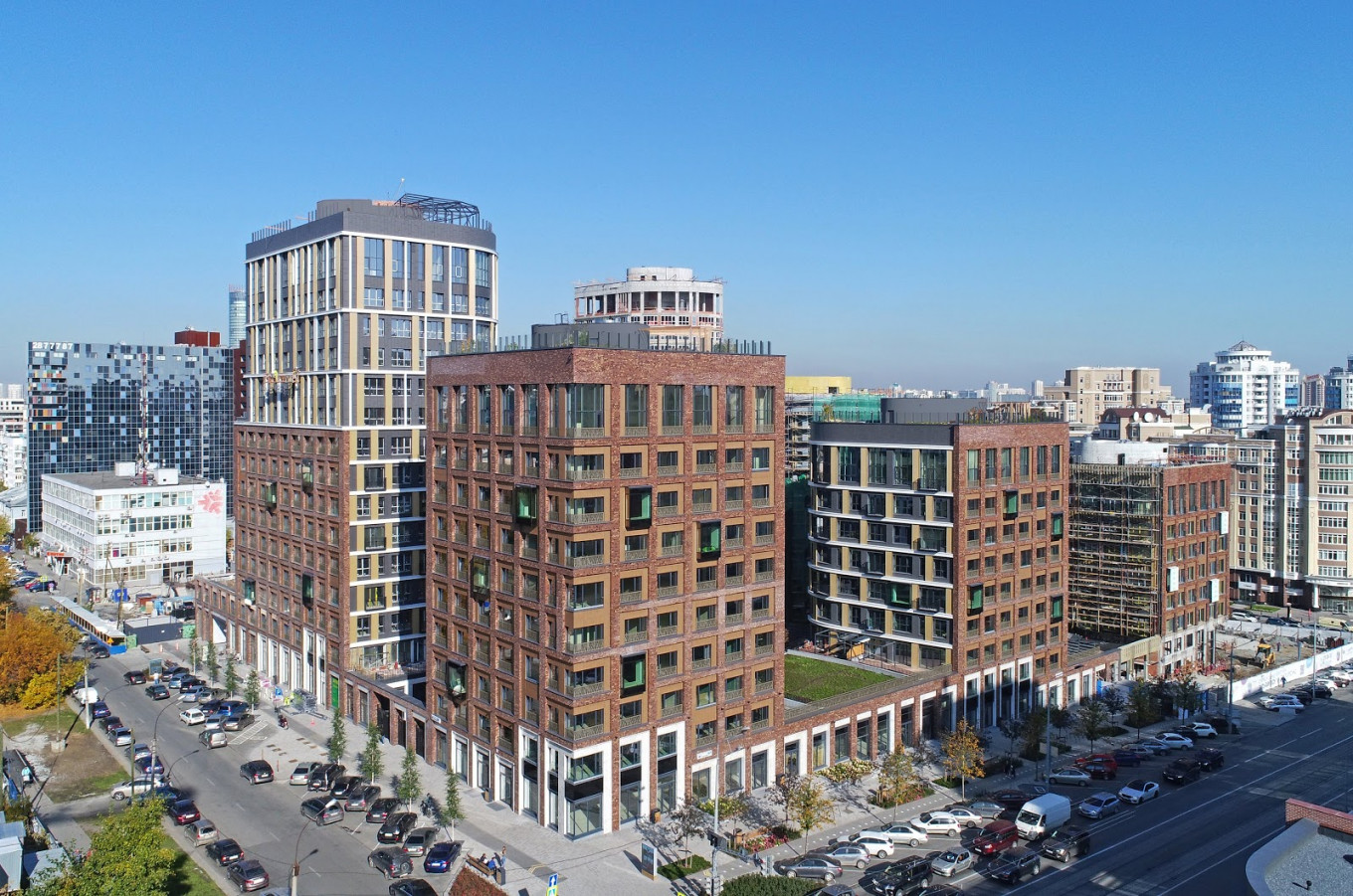 The site of Forum City was for many years one of Yekaterinburg's main open markets. This is reflected in the plan. The slim and elongated shopping mall that extends along the eastern side of the plot will be directly connected to a semi-public courtyard where residents and visitors can sit down for a drink.
"The covered food-court that lies in between is simultaneously a hint at the site's past function as market and an answer to the modern urbanite's desire for comfortable, safe culinary experiences," said Mout.
Greening the urban landscape
Three towers have recently been completed. Trees, flowers, shrubs and lawns cover the rooftops and the terrain between them. Pedestrian paths lead from the main entrances of the buildings directly into a park, past a children's playground and toward street-level entrances to apartments, day-care centres, yoga studios and whatever else might still set up shop there.
"What we are doing here in terms of landscaping is really quite special. Even for European standards, the green spaces we are realizing in this plan are ambitious," said Loof.
For the extensive landscape design, LEVS worked together with landscape architect Mirek Sztuka from S&P, which has offices in Poland and Russia.
"We share with them the ambition to use integrated landscape plans as a means to deal with concerns over biodiversity, climate change and quality of life in densely urbanized areas. Importantly, they are very experienced with working in Russia," Loof added.
In Forum City, a total of 150 mature trees will be planted, and thousands of shrubs and flowers will be spread out over the park, terraces and rooftops. That's unusual as green spaces are commonly started with saplings that still need a few years to mature. Planting mature trees up to 25 years old has two important advantages, Loof explained.
"First of all, they immediately start making their contributions to air quality in the neighbourhood. And come next summer, the first renters will be able to enjoy the shade of trees and the cooling effects of large amounts of green surface area around them," she said.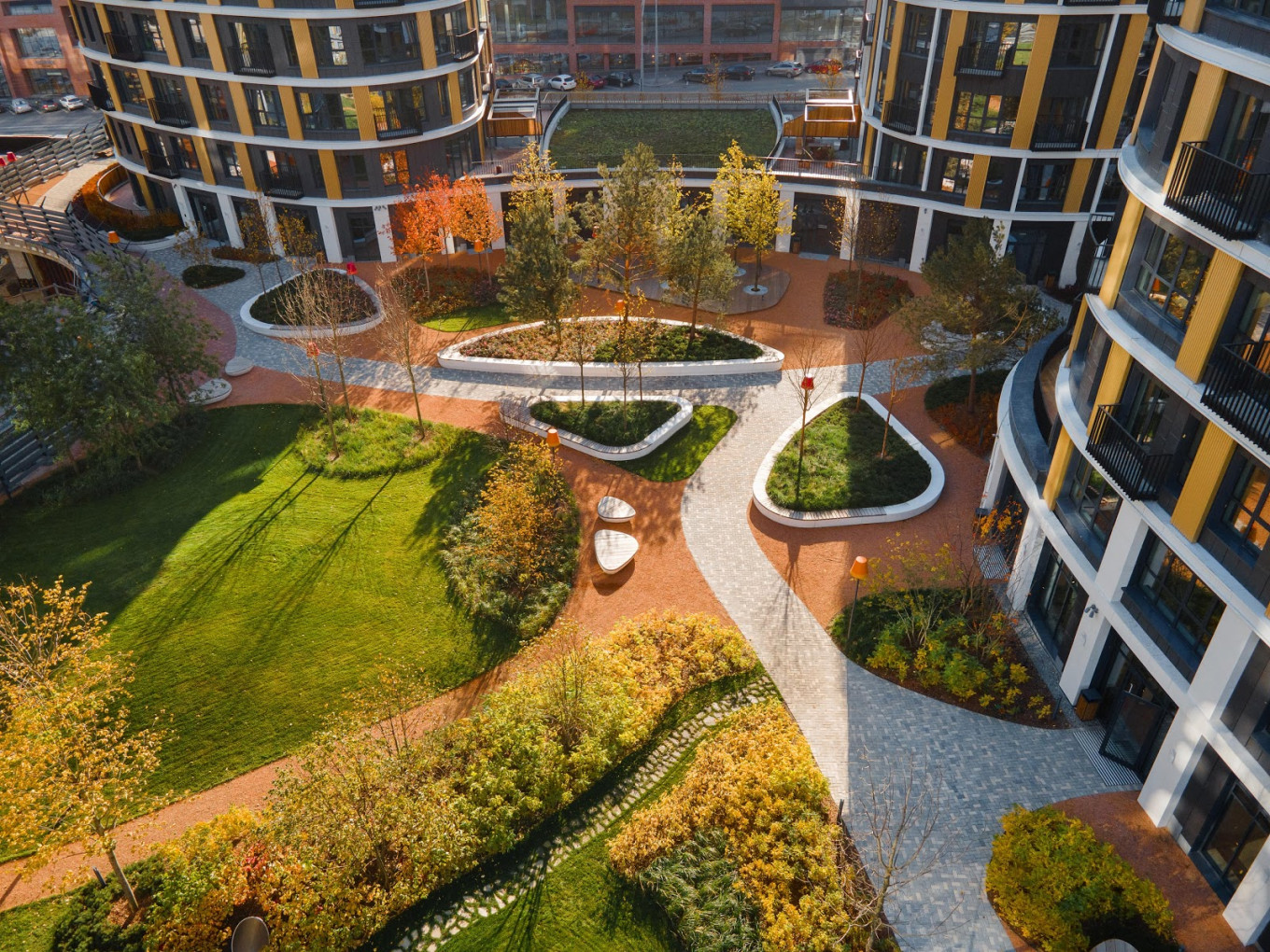 Planting a variety of trees means the park should eventually have live foliage and a changing colour palette year-round. Types of tree will range from evergreen pines through deciduous trees, including several species of maple. All of them will come from nurseries that specialize in developing extensive yet compact root systems, making it possible to plant them when they are mature.
"A spectacular achievement with these trees," Mout added, "is that the landscape park covers an underground parking lot. Typically, you would only be able to lay some grass on top of a lot, but we have found ways of constructing the decks so that we can create deep and stable soils for serious vegetation."
Making it happen
It will be possible for residents to move from house to work, from leisure activities to the day-care centre to the supermarket, all on foot. The private landscapes that connect all these elements in the complex are full of small paths and benches. The plan functions like a small city within a bigger city.
We believe this answers the needs of many young Russian urbanites. In the Netherlands, and in Europe more generally, there is a strong tradition of combining the dynamism and activity of a large city with the intimacy of a secluded neighbourhood. Many of the future residents of Forum City also want both," said Loof.
The open spaces between the towers and the layered park that includes semi-public and private areas are intended to facilitate the mixing of these two complementary lifestyles. Outside the buildings, places that would usually be parking lots are now squares, where pedestrians and bikers share a public space and where trees and plants mark ideal spots for meetings or breaks.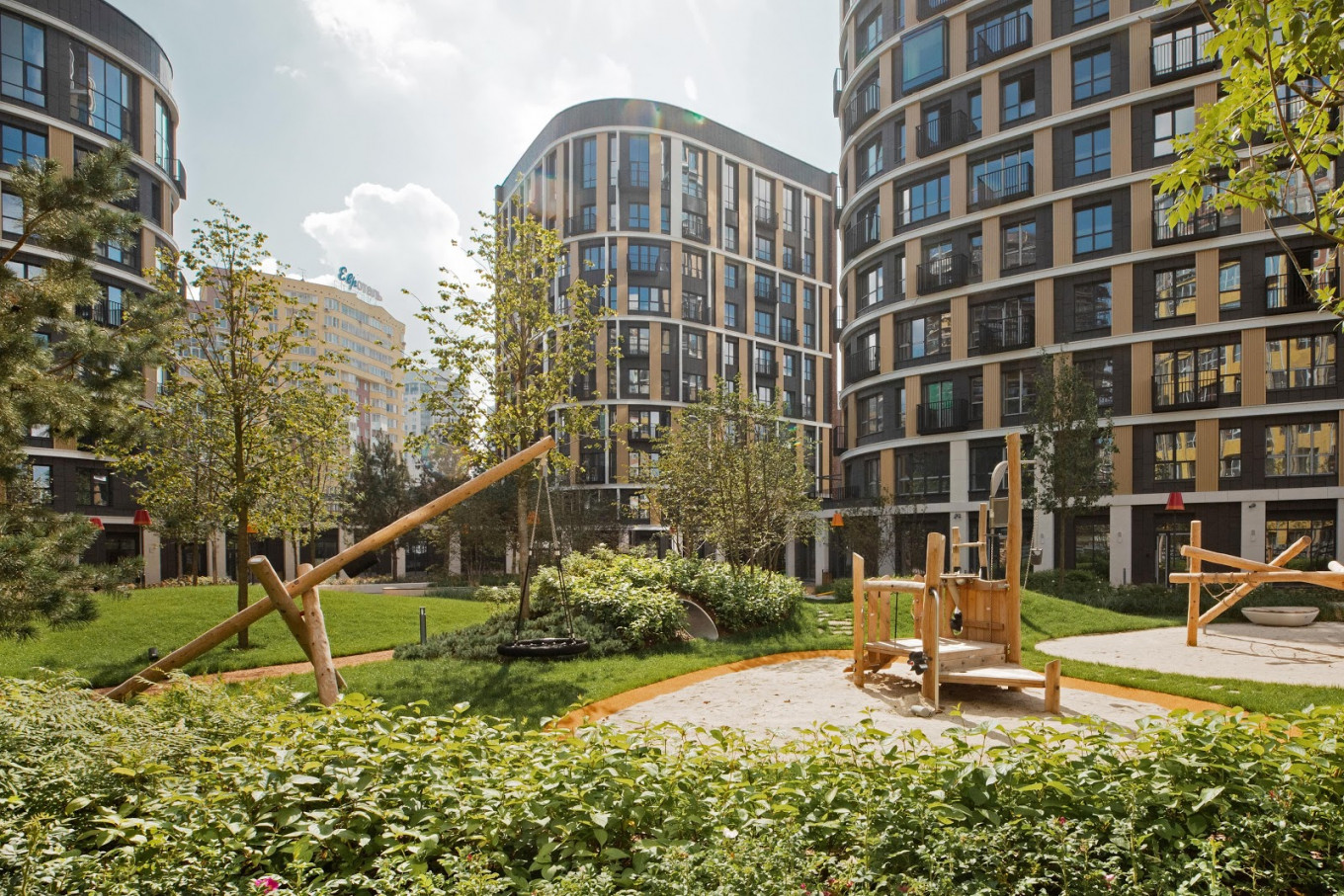 "We're extremely happy with the results so far. To be able to not only plan this, but to actually realize this plan in Russia is a real achievement, by all parties," said Loof.
LEVS architecten has completed earlier projects in Yekaterinburg and other cities, including Moscow, Tomsk and Novosibirsk, but Forum City is its biggest Russian project to date. Over six years, the company has learned about the intricacies of working in the country.
"Working on international assignments such as these requires more than merely long flights and the occasional language barrier. There are many cultural barriers to be crossed. By now we have several Dutch-Russian architects working at our Amsterdam office, which has proven to be an invaluable ingredient for being able to really enter the conversation on what a client and a local context need. From design all the way through to the execution phase," Loof said.
It was not a coincidence that a Dutch office ended up getting involved in the huge project.
The investors behind Forum City want to collaborate with European architects in articulating the language of forward-looking urban development.
"We bring a certain understanding of how to integrate a wide range of elements in a plan, that still puts the quality of life for the individual resident or user first," Loof explained.
On the other hand, the ambition of a plan like this also makes possible things that are sometimes harder in the Netherlands. "In Russia, we can work on scales that are much rarer in Europe. Incorporating a landscape plan like that of Forum is really quite special," she added
The coronavirus pandemic has highlighted an additional benefit of having access to safe natural landscapes close to the home. Whether in Europe or in Russia, people want to be able to safely enjoy different kinds of outdoor recreation.
"On top of climate concerns, we expect that the public health implications of not investing in green spaces and urban biodiversity are putting a growing pressure on future assignments to raise the stakes. We're seeing the same thing happening in our Dutch projects and even for our work in Mali, West Africa," Mout said.
Last year, LEVS was invited by Forum Group to rework the entire masterplan for one of the largest development areas of Yekaterinburg, the city's southern border. A key element of the new plan is its alignment with natural elements of the existing landscape — rivers that run through the neighbourhoods, green courtyards that start inside residential complexes and extend into public parks beyond the limits and safe bike and pedestrian paths.
Forum Group regularly sends LEVS photos of the latest developments on-site in Forum City.
"Last week we were treated to some views of the first fully planted rooftops and parks, and of the skyline across the plot. We even spotted the recently installed bicycle stands on the streets outside and people sitting and chatting on the flowery benches. A brief reminder that our shared dream for a new type of metropolitan living environment in the Russian inner city is becoming a reality," said Loof.